PROFILE OF NANA KONADU YIADOM III, ASANTEHEMAA
PROFILE OF NANA KONADU YIADOM III, ASANTEHEMAA
Asantehemaa was named Nana Ama Konadu at birth and also known by all as Nana Panin or Naa Panin. She later became Nana Konadu Yiadom III, after her enstoolment as the 14th Asantehemaa on February 6, 2016.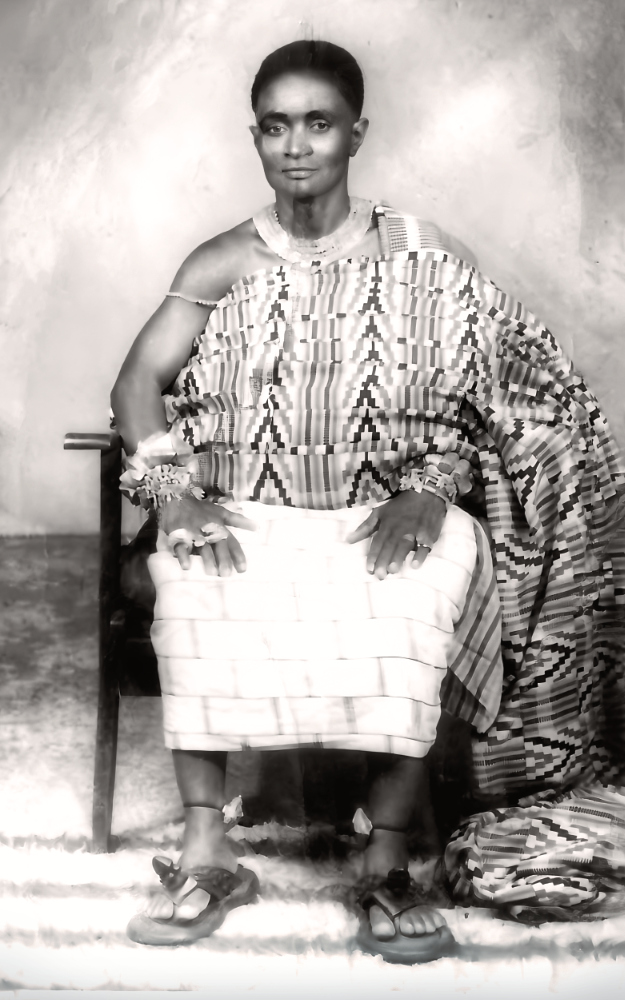 She was born on 1927 at Benyaade Shrine at Merdan, a small town located at Kwadaso, Kumasi, in the days of the restoration of the Asante Confederacy.
She was born to Nana Afia Kobi Serwaa Ampem II, Asantehemaa who reigned from 1977 to 2016. Her father was known as Opanin Kofi Fofie, known popularly as Koofie or Keewuo, a carpenter by profession from Besease near Atimatim in Kumasi.
At a very tender age, just when she was a little over a year old and being breastfed, Nana Konadu Yiadom III, Asantehemaa, was separated from her biological mother and given to her aunt (mother's sister), Nana Afia Konadu at Ashanti New Town (Ash-Town), a suburb of Kumasi.
Nanahemaa never had any formal education but she undergone a rigorous and quality informal education, learning a lot of things which were not taught in the classroom.
 She was initiated and underwent puberty rites together with her niece, Nana Abena Ansa in their early teens. She married Opanin Kwame Boateng, a blacksmith by profession from Aduman in Kumasi.
She is religious, kind hearted, calm, fair and firm, hardworking, very humble, unassuming and accommodating. In the mid-1990s, Kwaku Firi Bosomfo, the priest of Kwaku Firi, prophesied through Baffour Akoto, a Senior Linguist of Asantehene, that Nanahemaa would be Queen of Asante someday and surely, it came to pass.
Nanahemaa has achieved a lot and has been recognized as such. Through her constant generosity in doing God's work, the Saviour Church named a school after her, Nana Konadu Saviour School. She has exhibited high level of equity, justice and fairness and all cases brought before her have been settled amicably to the satisfaction of both parties involved. In celebrating her 5th Anniversary as Asantehemaa, she made a huge donation to the mothers at the Mother-Baby Unit (MBU), Pediatric Emergency Care Unit (PICU) and Pediatric Emergency Unit (PEU) and paid for all the medical bills and expenses for new mothers at the Mother-Baby Unit (MBU) at Komfo Anokye Teaching Hospital and Manhyia Government District Hospital.
Nanahemaa has started a vigorous campaign and instituted an annual event to encourage mothers to breastfeed their young ones, the main reason why she made a generous donation to the Mother-Baby Unit at Komfo Anokye Teaching Hospital and Manhyia Government District Hospital.
Copyright Manhyia Palace 2023