Assist Us With Industrialisation; Asantehene To France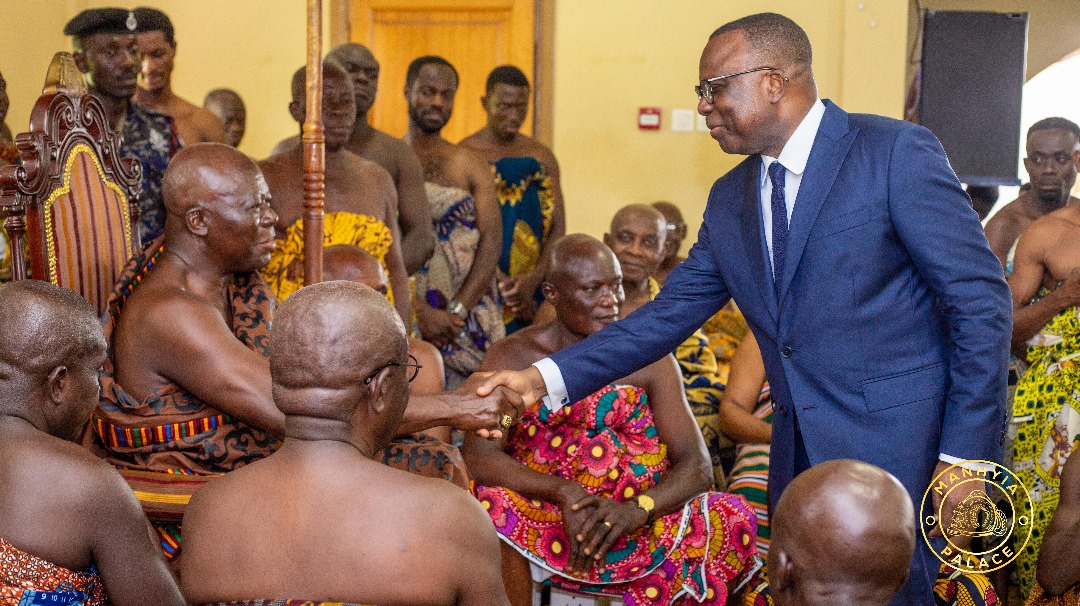 The Monarch of the Asante Kingdom, Otumfuo Osei Tutu II, has urged France to collaborate with Ghana in the area of industrialization with the sole intent of rendering the West African country economically independent.
He believes capitalizing on agriculture which is the bedrock of the country in industrialization will be the only means to solve the country's economic woes.
Recognizing the contribution of the European country to Ghana, he emphasized that more is needed to be done.
"I would want to talk about the collaboration between France and Ghana. I thank the French government for the road you constructed for us all the way down to Kuntenase at Lake. It was initiated during President Kufuor's time and then we continued the remaining kilometers when President Mahama was here."
"But I still believe we still have to do so much with the French government. Industry for example is your experience. Our economy has been going through turmoil because of imports. We need to industrialise and add value to agricultural products so we stand to learn from you in relation to how we can industrialise our country. We want to do this through agriculture and by setting up our industries and I think you are in the position to collaborate with us in that fact," he said during a courtesy call by the French Ambassador to Ghana, His Excellency Jules Armand Aniambossou to the Manhyia Palace on Wednesday.
Otumfuo encouraged France to go beyond the formalities of diplomacy and discourses.
According to him, Ghana is in dire need of technical expertise for the transformation of the agricultural sector through value addition for consumption and export.
He ultimately highlighted that the country's current debt and fiscal challenges which have necessitated an International Monetary Fund programme stem from the importation of goods which outpaces exports.
"Other than that, we will still be coming to you for money but we have to be self-sufficient. We need this to build ourselves and the economy. We need the funding and technical support."
Aside from helping the fiscal aspect of the country's problems, His Majesty indicated industrialisation will go a long way to solve the high unemployment rate.
Introduction
His Excellency Jules Armand Aniambossou alongside his staff at the Embassy, were at the Palace on November 8, 2023.
He replaces H.E Mrs Anne Sophie Ave whose tenure ended last year.
Introducing himself to the King, the envoy said his appointment to Ghana felt like the return to his home, and continent of birth.
"I am proudly African. I was born in Benin. I grew up in France, I studied in France and now I'm back home here in Ghana."
He also expressed his honour for the courtesy call and admiration for Otumfuo with regard to his contribution to the country's development.
"I'm very very honoured to be here at the Palace to pay a courtesy call to Your Highness as the new Ambassador of France to Ghana."
"In France, Europe and West Africa, we know the role His Majesty he is playing in many many many matters and issues."
By Hajara Fuseini
November 9, 2023
Copyright Manhyia Palace 2023