FICAC Honours Otumfuo For "Exceptional" Leadership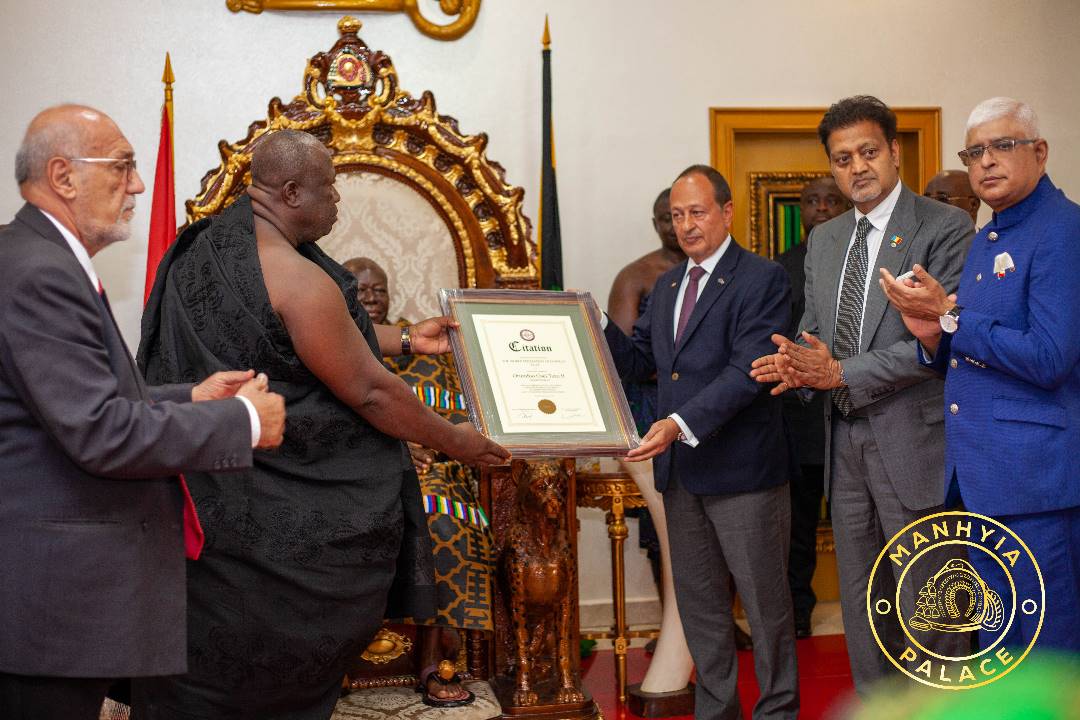 The World Federation of Consuls has recognised Asantehene Otumfuo Osei Tutu II for his exceptionally outstanding leadership in the promotion of peace and democracy.
The President, Nikolaos K. Margaropoulos, together with leading members of the Federation flew to Ghana to honour the King on Monday, May 29, 2023.
The delegation included Asif Chowdhury, Honorary Consul of Chile in Bangladesh and Vice-President; Purrshottam Bhaggeria, Honorary Consul of Moldova in India and Secretary General; and Kwame Acquah, Honorary Consul of Seychelles in Ghana.
They presented a citation to the King at his Palace.
It read, "The World Federation of Consuls make this presentation to His Royal Majesty Otumfuo Osei Tutu, Asantehene for his demonstrated leadership and traditional diplomacy in championing peace and upholding democratic valued."
"We have come here to present a citation of the highest honour to recognise his good work and exemplary conduct in traditional leadership on the global stage. We come here in humility and respect and appreciation to him," Consul Kwame Acquah said.
On his part, the President of the Federation, Consul Margaropoulos highlighted their pleasure in presenting the citation to Otumfuo.
The King appreciated their effort saying it makes him feel like a Consul.
"I thank you for this courtesy call and the honour that you have bestowed on me…Even though I'm not a consul because I was not privileged to be appointed as such, at least today you have made me feel like a consul even though I don't have a country that I represent."
FICAC is a global network of Consular Associations created to support and improve the status, legitimacy and effectiveness of all consular officers in all receiving States.
It is recognised by the United Nations, European Union and other international Organisations, the Federation president said. It is accredited by the Permanent Council of the Organization of American States.
Established in 1982, it aims at promoting and strengthening mutual understanding between Honorary Consuls and Career Consuls worldwide; develop a framework and basis for the exchange of current information, ideas and suggestions regarding matters related to the office of Honorary Consuls and Career Consuls; promote at the national level and international for a better understanding of duties and responsibilities, rights and privileges of Honorary Consuls and Career Consuls.
By Hajara Fuseini
May 29, 2023
Copyright Manhyia Palace 2023