Otumfuo Osei Tutu II Now 24 Years On The Golden Stool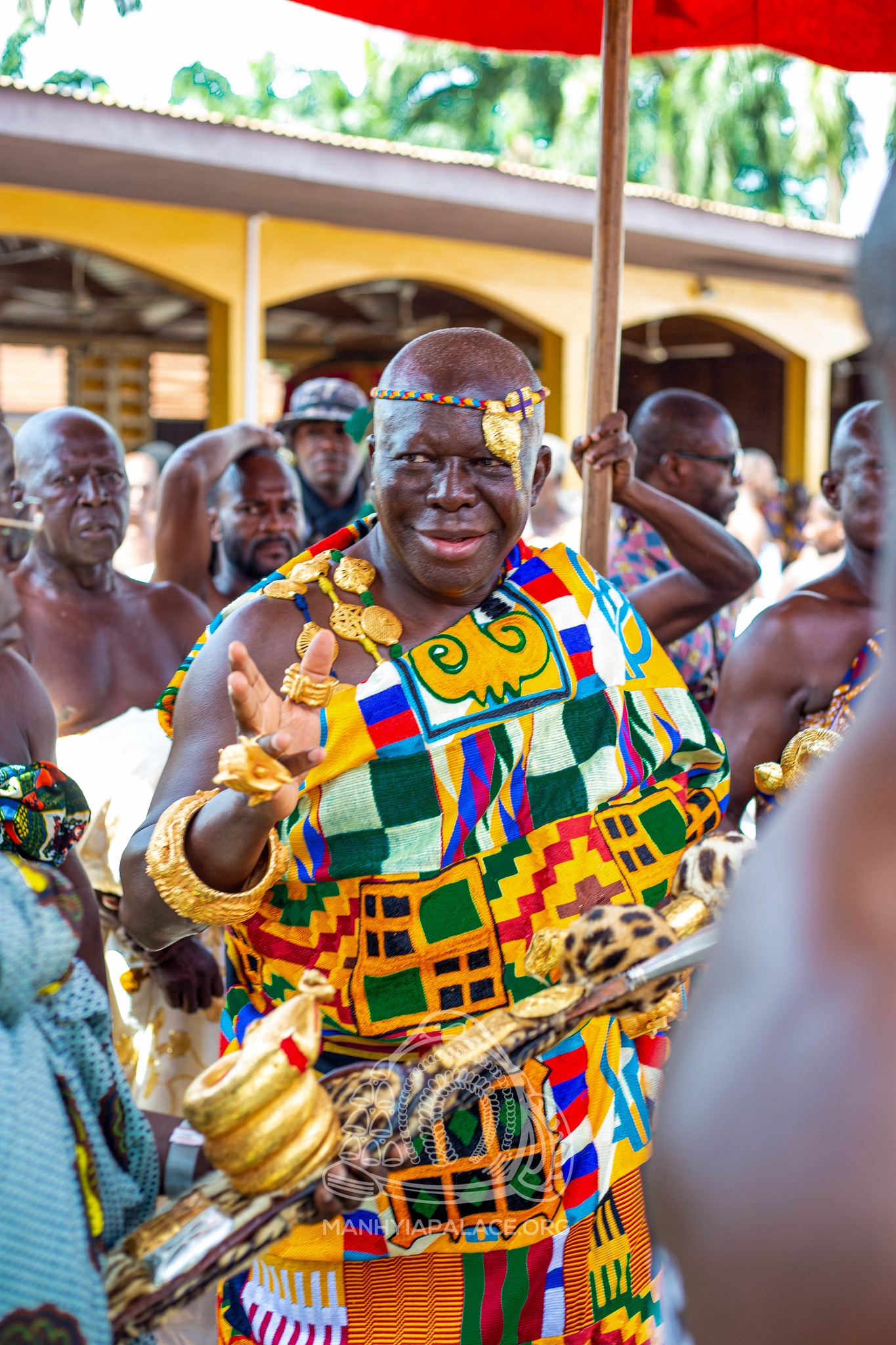 It's been over two decades since Nana Barima Kwaku Duah ascended the Golden Stool and was bestowed with the name Otumfuo Osei Tutu II.
The King is the 16th monarch of the Asante Kingdom after succeeding Nana Opoku Ware II.
Today marks exactly 24 years since he was crowned King- having ascended the throne on April 26, 1999.
Clad in black cloth on the faithful day, traditional rulers crowded the Manhyia Palace to administer his swearing-in.
A video from the event showed Otumfuo Osei Tutu II elevated amid the crowd and handed a sword to make an oath.
"I, Otumfuo Osei Tutu II, am here to continue the good works of my predecessors which have brought the Asante Kingdom into great reputation. If I fail to rule the Kingdom in truth and honesty, I have violated the great oath," he said and then handed back the sword.

Since then, the King has carved out a niche for himself in projecting the Kingdom locally, nationally and globally.
He has made substantial contributions towards education, health, water and sanitation, entrepreneurship, culture and heritage, peace, and development in Ghana.
Currently, he has an established foundation- the Otumfuo Osei Tutu II Foundation (OOTIIF)- which is engaged in five broad thematic areas and in line with the achievement of aspects of Sustainable Development Goals (SDGs), GPRS II and NEPAD goals.
When it comes to education, in the past 24 years, more than one million brilliant but needy students across the 16 regions have benefited from the foundation.
Additionally, his foundation runs educational and health projects which seek to bridge rural and urban gaps.
The globally recognised monarch has also received numerous awards, honours and citations for his contributions among which is the Pillar of Peace award.
In 2021, a commemorative gold coin was launched in his honour by Precious Minerals Marketing Company (PMMC) in collaboration with the E On 3 Group as a recognition.
In 2022, he was presented with a piece of St Augestine's Cross- an award of merit given by the Archbishop of Canterbury and awarded to members of the Anglican Communion who have made significant contributions to the life of the worldwide Communion, or to a particular autonomous church within Anglicanism.
Currently, plans are far advanced to launch philatelic stamps in his honour through a collaboration between the International Intergovernmental Corporation and the Ghana Post Philatelic Committee.
During a courtesy call to the Manhyia Palace to propose the commemorative stamp to the King, the Managing Director of Ghana Post Limited, Bice Osei Kuffour said "These stamps will go all over the world because Ghana Post is connected and part of the international Postal Union and so these commemorative philatelic stamps will go all over the world. It's a major tool for tourism in Ghana. All over the world wherever this stamp will get to, they will know that there is a great King in Ghana."
By Hajara Fuseini
April 26, 2023
Copyright Manhyia Palace 2023