Otumfuo Recommends 3 New Journalists Award Categories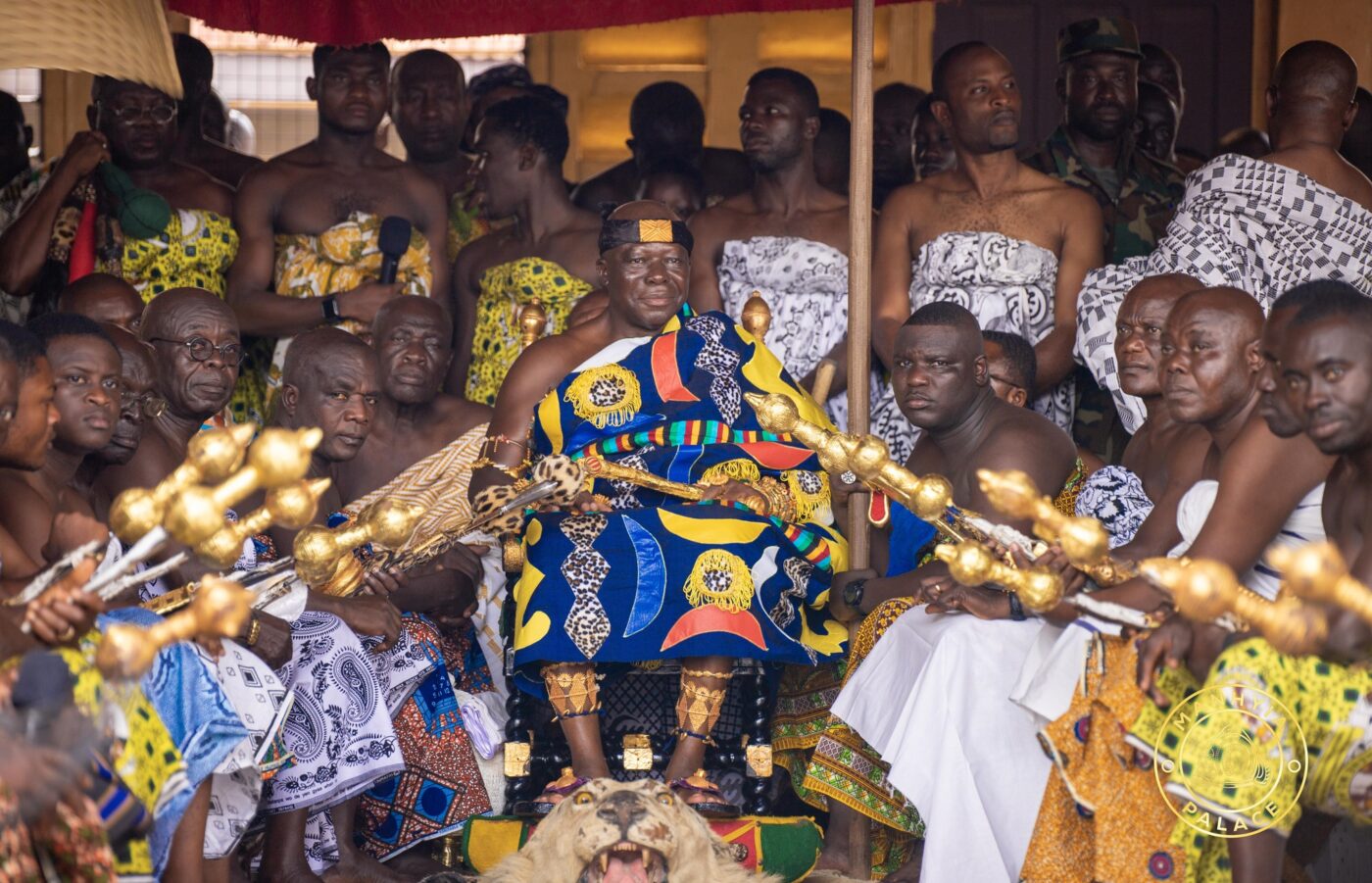 His Majesty Otumfuo Osei Tutu has recommended three new categories in honour of three past journalists in the Ghana Journalists Awards (GJA) Scheme.
They are Henry Ofori, Cameron Duodu and Kofi Badu.
His Majesty, from observation of the works of these individuals, posits that a lasting memory must be intentionally carved for them.
He will be personally proposing this to the leadership of the Ghana Journalist Association (GJA).
The overlord of the Asante Kingdom shared this when the 2023 Ghana Journalist of the Year paid a courtesy call on him to make a presentation of his plaques on November 8, 2023.
The category dubbed PAV Ansah Journalist of the Year Award is named after a Ghanaian activist who is credited with setting the tone for the study and practice of mass communications in Ghana.
Like him, His Majesty wants the three legends remembered when they pass out to eternity.
"Just like the PAA Ansah category of the GJA, I want to deliberate with the authorities of GJA to carve some awards for some old journalists. There was one Henry Ofori, Cameron Duodu and Kofi Badu."
He noted that it will encourage the upcoming youth who intend to pursue journalism to follow in their footsteps.
Henry Ofori
Henry Ofori professionally a teacher at a secondary technical school in Takoradi took up journalism when Daily Graphic was set up.
He captivated the country and later Africa with his columns under the pen name Carl Mutt and rose subsequently to become editor of Daily Graphic and the Ghanaian Times.
Before he died in 2013 at the age of 89 years, he was editor of the Ghana edition of Drum Magazine.
He championed the course for an African journalists' Union, however, it failed to manifest.
Cameron Doudu
Cameron Doudu, a novelist by profession, is said to have ventured into the media space after writing the "Gab Boys" in 1967.
He worked for Ghana Broadcasting Corporation, Drum and Daily Graphic. He later worked as a freelancer for the BBC, Guardian, the Observer, the Financial Times, the Economist, the Sunday Times and De Volkskrant, Amsterdam.
Currently based in the United Kingdom, Cameron writes columns for international newspapers including the Ghanaian Times.
Kofi Badu
Kofi Badu as a journalist rose through the ranks from a sports writer to become the Managing Director of Daily Graphic during which tenure saw the modernization of the newsroom and the introduction of computers.
According to an article by columnist and Night Editor of the Daily Graphic Vance Azu, "Mr Badu's administration eliminated the lackadaisical approach to work and introduced some orderliness in the establishment. Everybody became alert and discharged his or her responsibilities with alacrity, knowing the consequences that awaited if one faltered in one's work."
Mr Badu also worked as an editor for the Ghanaian Times and is currently the Chief of Staff at the Manhyia Palace.
By Hajara Fuseini
November 9, 2023
Copyright Manhyia Palace 2023