Release All Undisciplined Kotoko Players- Otumfuo Charges Coach Ogum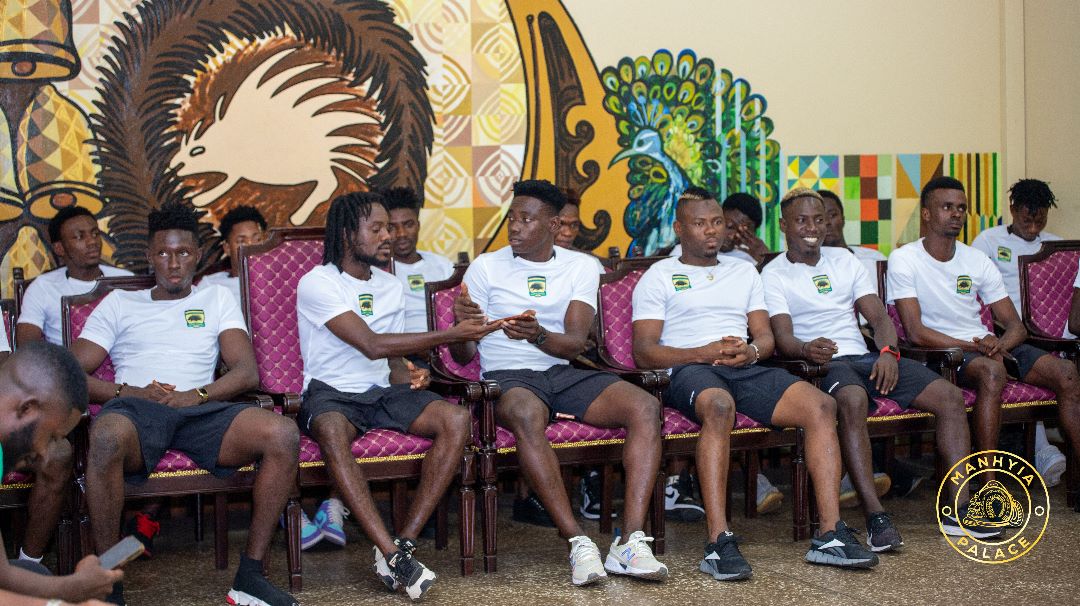 Patron of the Asante Kotoko Sporting Club, Otumfuo Osei Tutu II has indicated that indiscipline among players must not be tolerated.
He has, therefore, charged Coach Prosper Narteh Ogum to release players who defy rules and obligations no matter their gratifying output to sanitise the club.
The overlord of the Asante Kingdom gave the charge during a meeting with the players, the Interim Management Committee (IMC) of the Club and the Technical team at the Manhyia Palace on Monday, August 7, 2023.
"Undisciplined players must be sacked no matter their excellence on the field. If you are a good player and disciplined, it inures to your own benefit," he said.
His Majesty urged the players to be selfless and play heartily for the Club as they begin their pre-season activities and subsequently in the upcoming season.
"Play heartily for the Club for your own good. Do not focus on money. If money is your reason for being in Club, leave…Demonstrate your allegiance to the club despite."
Otumfuo also assured the players that all their needs will be addressed.
"Efforts are underway to redevelop your training ground but they must understand that all their problems can't be solved overnight. They will be done gradually until all is solved," he said while assuring that the development of a more convenient loo is underway.
Furthermore, the King counselled the players to use the right communication channel to relay their challenges.
"Consult the team Manager for all your challenges and he will communicate to the management. If the challenge is beyond them, it must come right away to me."
Debt Clearance
Outstanding debt owed players in salaries and benefits has been cleared by His Majesty Otumfuo Osei Tutu II. This was confirmed by Coach Ogum, Team Manager Ohene Brenya and Goalkeeper Ibrahim Danlad when each got the opportunity to address the King.
It was also confirmed that separate apartments have been secured for both the players and the coach.
"The apartment will be able to house 48 players which will afford us the opportunity to monitor them. Another apartment has been secured for coach and he has expressed his satisfaction with it," Ohene Brenya accounted.
On his part, Coach Ogum informed Otumfuo the players already know their fate as those earmarked for transfer have been informed with those earmarked for continuation at the Club are also in the know.
He said per Otumfuo's instruction, he added some personnel he is confident will help him deliver on the mandate.
Further, he touched on preseason preparations and its aftermath activities and assured the King about his determination to bring the Club the reputation and honour it deserves.
For Danlad Ibrahim, it was all appreciation for the settlement of their outstanding salaries and benefits.
By Hajara Fuseini
August 7, 2023
Copyright Manhyia Palace 2023