This Is The Time Ghana Counts On Friends Like You; Otumfuo To Malta
The Foreign and European Affairs Minister, Mr Ian Borg has said a number of agreements have been signed between Ghanaian and Maltese businessmen to strengthen trade relations between the two countries.
This, the monarch of the Asante Kingdom, Otumfuo Osei Tutu II, believes couldn't have come at a better time.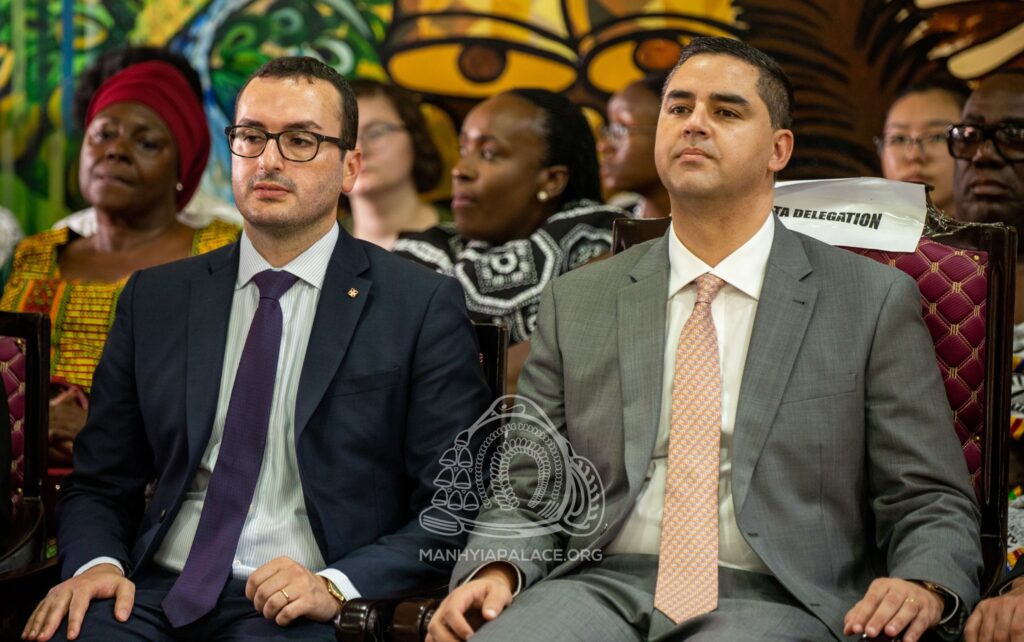 Ghana is currently debt-burdened and unable to service her debts, a development that has drained investor confidence and necessitated the need to seek an International Monetary Fund (IMF) bailout.
Mr Borg is in Ghana with fifty (50) businessmen from some 25 Maltese companies to exploit trading opportunities.
He disclosed at the Manhyia Palace that agreements were signed to pave the way for trading among the two countries on Tuesday, January 17.
He said his country seeks opportunities for mutual benefits with Ghana and recognises that both economies can grow through such efforts.
"Yesterday we witnessed a number of agreements that were signed between the respective companies and businessmen", he told Otumfuo during a courtesy call at the Manhyia Palace on Wednesday, January 18.
He also told the King about the inauguration of their Office in Accra- the first in Sub- Saharan Africa.
"During my visit yesterday, I had the opportunity to officially inaugurate our embassy in Accra. This is a testament to our commitment to further strengthen relations between our two countries, especially considering the fact that this is our first diplomatic representation in Sub-Saharan Africa.
"This is a testament that we strongly believe that Ghana is not only an important partner but the gateway to the region. This is no coincidence, we have our Malta-Africa strategy and we identified your country as one of the most stable and reliable partners to work with."
On his part, the Monarch lauded the move and the timing.
"Ghana is going through some economic challenges and this is the time that we count on our friends like you who would guide and guard us to be able to fashion economic policies that would help us to come out of this situation.
"The only way that we can do this is to trade and export to Malta and set up industries together. The knowledge, experience and know-how that Malta has is what we seek. So we look forward to employment and value addition to our raw materials."
He said his visit to Malta in 2018 at the invitation of the President convinced him about the desire of the country to collaborate with Ghana.
He added, "even though you are in the Mediterranean, we still believe that Ghana and Malta can still collaborate because we share common ideas."
It will be recalled that in November 2022, the Maltese High Commissioner to Ghana, H.E. Jean Claud Galea Mallia, during a courtesy call to the Palace informed the King about the Minister's desire for a call in January.
Upon his arrival in Ghana, he paid a courtesy call to the King together with the High Commissioner and other Maltese officials.
Source: opemsuo.com/Hajara Fuseini
By alugi12
January 19, 2023
Copyright Manhyia Palace 2023