Asantehemaa Celebrates 6th Anniversary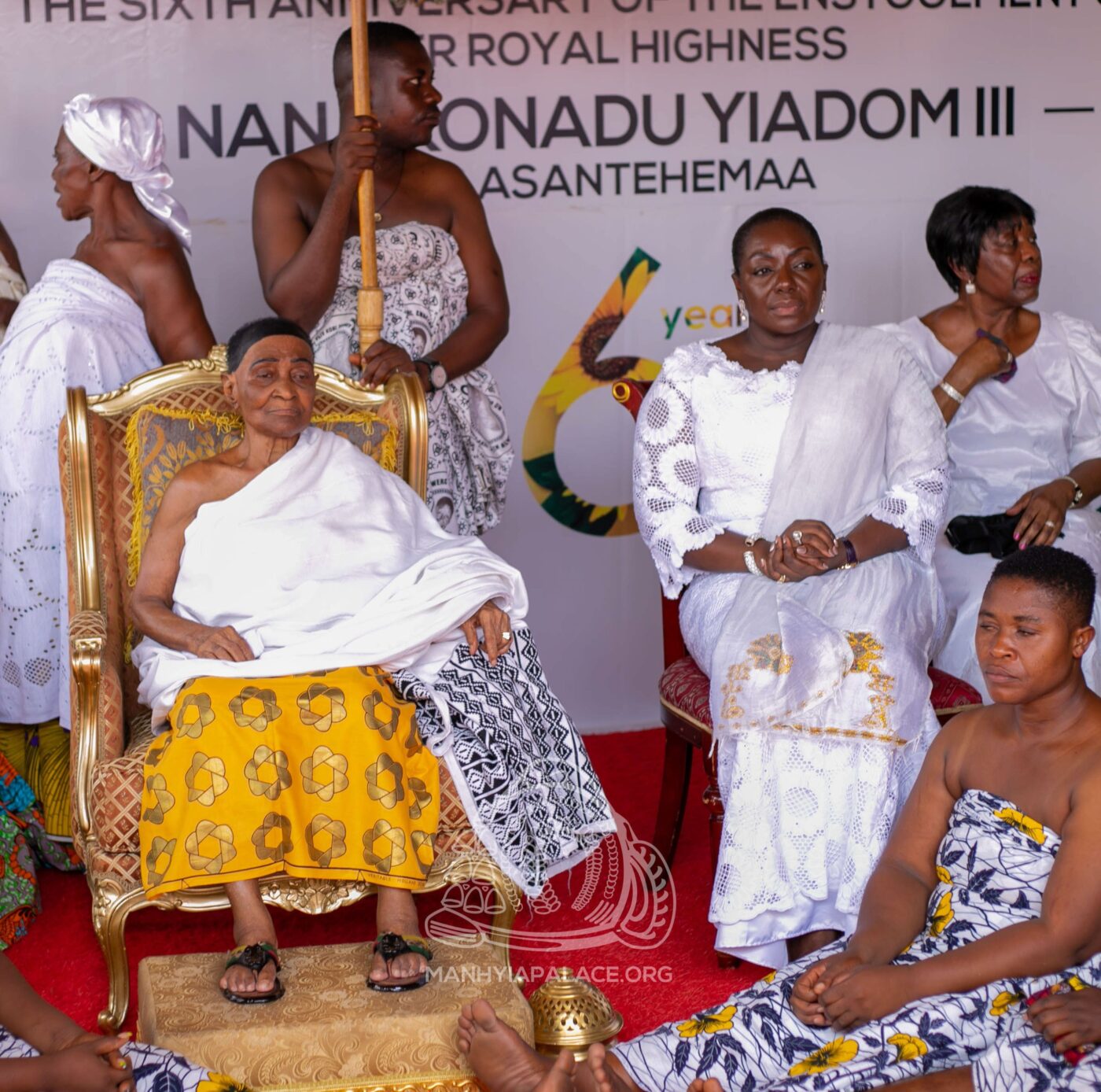 The Queen of the Asante Kingdom, Nana Konadu Yiadom III is commemorating her sixth coronation anniversary today, February 6, 2023.
She ascended the throne in 2017.
She reigns as the fourteenth queen of the Kingdom after ascending the Nyarko Kusiamoah and Konadu Yiadom Stool.
Born Nana Ama Konadu, she succeeded her mother, Nana Afia Kobi Serwaa Ampem II who passed away on 15 November 2016 at the age of 109.
As part of the celebration, the queen will sit in state to receive homage from queen mothers in the Kingdom and visitors.
Other activities will be held at the Manhyia Palace to mark the day.
In an interview with opemsuo radio, Bomsobaapanin Nana Abrafi II congratulated the Queen on her anniversary and wished her well in her reign.
The role of the queen is crucial to the Kingdom and its people. She plays an important role in the coronation of a new King, advises the King and serves as an arbitrator.
The current queen is the eldest sister of Otumfuo Osei Tutu II.
Otumfuo Osei Tutu II, at the 5th coronation Anniversary of the Queen recounted how her enstoolment came about.
"I didn't enstool her because she is my biological sister but she was the heir to the stool customarily. When my mother passed away, my sister, Adwoa Achiaa was alive, Ama Serwaa Bonsu was also alive and my biological sister, Ama Konadu was also there.
"I personally visited Adwoa Achiaa but she was ill so I proceeded to Serwaa Bonsu because they were the elders. Looking at their health condition, I went to Ama Konadu who was next on the line."
History has it that a prophecy about her leadership was given in the mid 90s by a priest.
About The Queen
Nana Konadu Yiadom III is the first of five children of the late Nana Afia Kobi Serwaa Ampem II- the thirteenth queen of the Kingdom.
She was born in 1927 at Benyaade, a town at Kwadaso in the Ashanti region.
According to the scripted life story of the queen as recounted by historian, Professor Osei Bonsu Safo-Kantanka, the queen was engaged in catering, farming and petty trading before ascending the throne.
She has cooking, music and dance as her hobbies.
Although she did not receive formal education, Prof Kantanka indicates that the level of informal education she received is equivalent to any formal education.
Source: opemsuo.com
By Hajara Fuseini
February 6, 2023
Copyright Manhyia Palace 2023