Asantehene Ends Trinidad And Tobago's Thirst For True Royalty With A Visit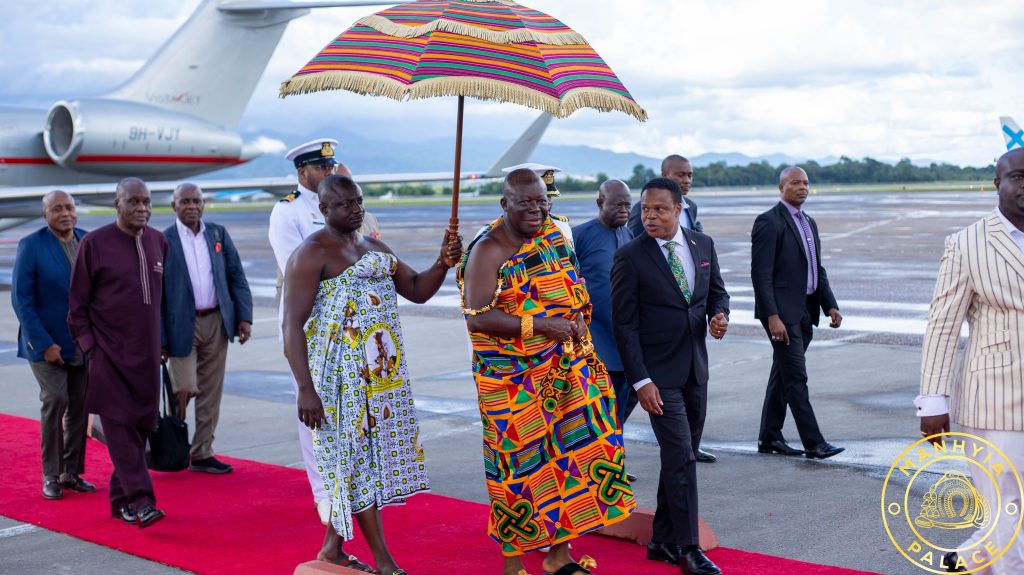 The King of the Asante Kingdom, Otumfuo Osei Tutu II has journeyed to South American country Trinidad and Tobago affording the country the honour of witnessing "true royalty" since the inception of its history.
According to the Trinidad and Tobago High Commissioner to Ghana, His Excellency Wendell Vincent Carlton De Landro, Asantehene is also the first African King to visit the country.

His Vista Flight jet landed at the Piarco International Airport in Port of Spain, the country's capital, late Sunday afternoon.
Receiving him at the airport were Senator Honourable Dr Amery Browne, Minister of Foreign and CARICOM Affairs, Honourable Fitzgerald Hinds, Minister of National Security, Senator Honourable Paula Gopee-Scoon, Minister of Trade and Industry and the Senator Honourable Randall Mitchell, Minister of Tourism, Culture and the Arts.
At the airport, His Majesty was also given a salute by the country's quarter guards.

He is in the dual-island Caribbean nation on a five-day state visit.
As part of his activities, he will today call on the Country's President, Her Excellency Christine Carla Kangaloo and Prime Minister Dr Keith Rowley.
He will later attend a Pan African Event- Trade and Investment Symposium to bolster trade and investment between Africa and the Caribbean with possible support from the Ministry of Trade and Industry.
On Tuesday, he will attend events marking the Emancipation Day celebration which marks the day enslaved Africans throughout the British Empire were finally liberated from the bondage of slavery.
His Highness will the following day pay a visit to Tobago and later to the Desperadoes Pan Theatre followed by a visit to Yoruba Village Square on Thursday, August 3 and then a lecture at the University of the West Indies in Trinidad and Tobago (UWI/UTT).

On the last day of his visit, the occupant of the Golden Stool will undertake energy facility tours. The Ghanaian community in the country will also pay homage to him on the same day.
Otumfuo will return to Ghana on Saturday, August 5, 2023.
The long overdue visit was scheduled to happen in 2020, however, it was postponed due to the covid-19 pandemic.

Trinidad and Tobago's Government Communications department notes that Asante's royal ties to the country can be dated to 1881 with the arrival of Prince Kofi Nti, son of King Kofi Karikari, the tenth King of the Asante Empire.
"In 1883, Prince Kofi Nti designed a Signal Station which was built at Fort St. George, Port of Spain," it added.
By Hajara Fuseini
July 31, 2023
Copyright Manhyia Palace 2023