Asantehene Hosted At Trinidad And Tobago Presidential Villa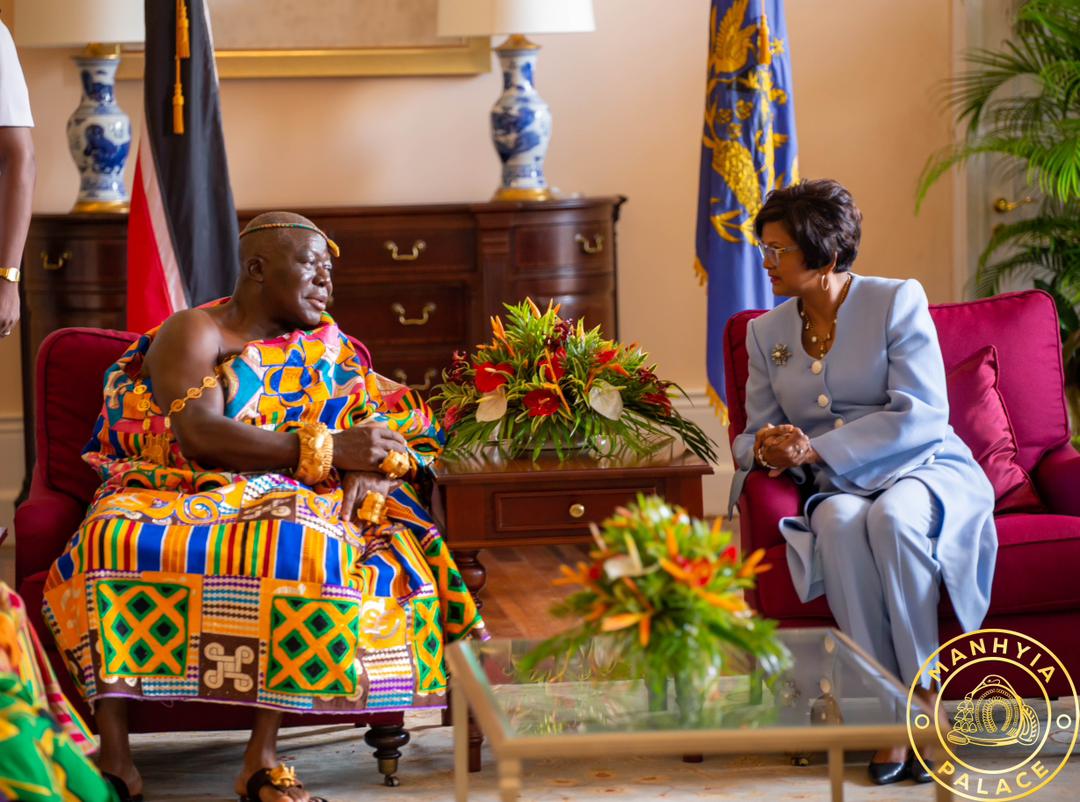 Asantehene Otumfuo Osei Tutu II was hosted at the President's House in Trinidad and Tobago by Her Excellency Christine Carla Kangaloo, ORTT on Monday.
On the first day of his five-day visit to the state, a meeting with the head of state at the Presidential villa kick-started his official activities in the country.

The culture and tradition of the Asante Kingdom were proudly on display as the King and his entourage made up of key traditional rulers donned traditional outfits matching traditional footwear.
The Monarch had his linguist at work with his parasol majestically over him during most of the time of the meeting.
They were welcomed by the President, her husband, His Excellency Kerwyn Garcia, Minister of Foreign and CARICOM Affairs, Senator Hon Dr. Amery Browne and the Permanent Secretary to the Ministry of Foreign and CARICOM Affairs, Rita Toussaint.

After discussions between the two leaders, gifts- which will leave an indelible memory of the King's first visit to the dual-island Caribbean nation- were presented to President.
His Highness is expected to participate in the Emancipation Day celebration of the country with its attendant events today, August 1.

He will also participate in a series of planned activities in the subsequent days culminating with a meeting with the Asante community in the country and return to Ghana on Saturday, August 5, 2023.
By Hajara Fuseini
August 1, 2023
Copyright Manhyia Palace 2023