Asantehene Scheduled For Lecture At St Andrews University In Scotland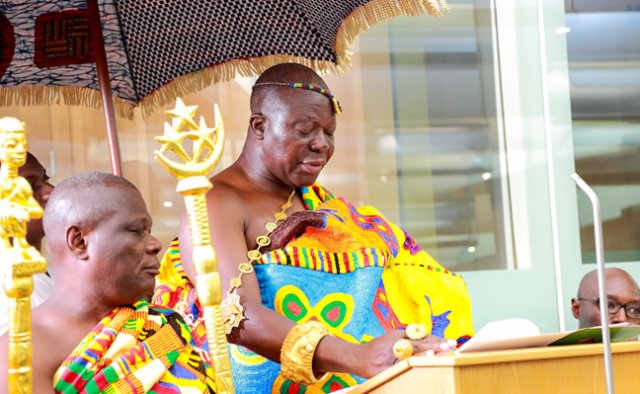 The Monarch of the Asante Kingdom, Otumfuo Osei Tutu II is scheduled to deliver a lecture at St Andrews University later this year.
The lecture will form part of his itinerary for his trip to Scotland.
He disclosed this at an event at the Lancaster Hotel in Kumasi on Saturday, June 17, 2023.
Among his scheduled activities for the trip in the ninth month will be the lecture and a meeting with officials of The Royal and Ancient (R&A) Golf Club of St Andrews, where he said he will enagage in discussions about golf. The international golf club is responsible for governing the rules of golf, staging the Open, Golf's original championship, and developing the sport.
"I will be in Scotland sometime in September in St Andrews. I'm supposed to give a lecture at St Andrews University but the next day, R&A will host me. I will be also discussing golf with them," the King said.
This trip will be his second official trip outside the country this year and will mark his second lecture in two years.
In May last year, he delivered a lecture at the University of Memphis on the topic, "Contemporary Challenges in the United States and Africa Relations".
The US trip has birthed a Memorandum of Understanding (MoU) between the Ghana Scholarships Secretariat and the University of Memphis under which GHC50 million will be released annually for qualified Ghanaian students to travel to Memphis University to undertake their undergraduate, master's and PhD.
Up to 70 per cent of the opportunity is reserved for students who will undertake courses in Science, Technology, Engineering and Mathematics (STEM).
The Manhyia Palace is yet to release an official communication about the King's trip to Scotland.
By Hajara Fuseini
June 19, 2023
Copyright Manhyia Palace 2023