Asantehene's Handwritten Message Displayed At Trinidad And Tobago Fort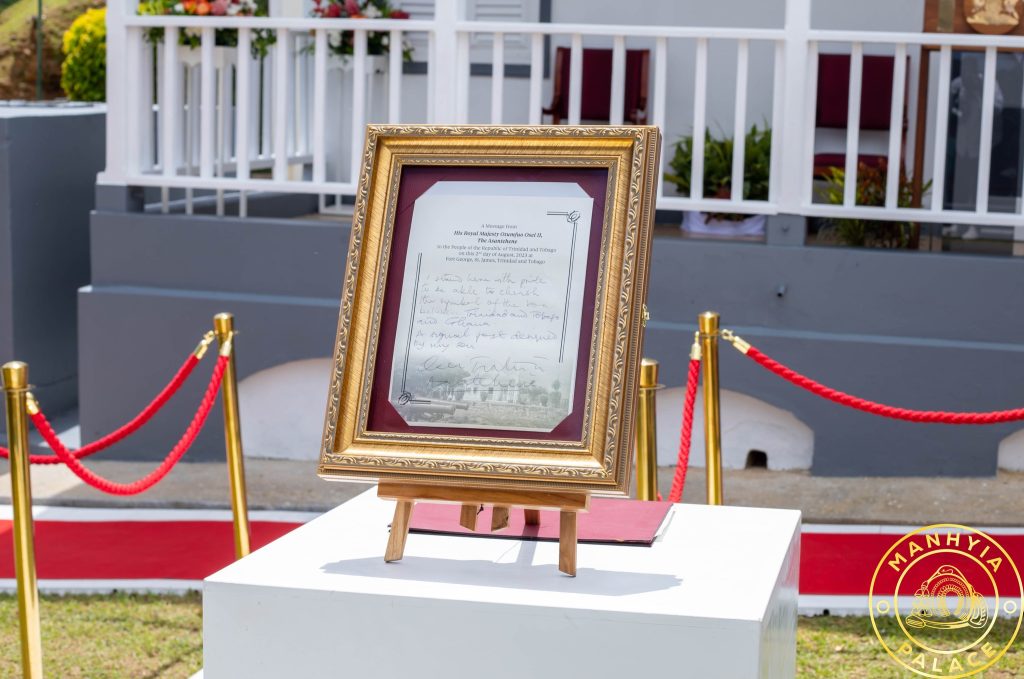 A handwritten message by Asantehene Otumfuo Osei Tutu II is on display in a fort in Trinidad and Tobago.
The message was written by the King after he visited Fort George located in St James in the region of Diego Martin on August 2, 2023.
The fort formerly known as La Vigie and built in 1804 in Trinidad got entwined with the Asante kingdom when a son of the 10th King of the West African-based Kingdom, Kofi Nti, designed and built a signal station at the fort for the country in 1883.
"His contribution on the island of Trinidad and more particularly to the construction of the signal station reflects the lasting legacy of African heritage and traditions that have become an inseparable part of our life," the Minister for Tourism, Culture and Arts, Senator the Honourable Randall Mitchell said.
The Senator also highlighted the significance of Otumfuo's visit to the country.
"Your Royal Majesty, your presence here serves as a profound reminder of the enduring ties between Trinidad and Tobago and Ghana. Your visit honours the shared history and cultural exchanges that have been reached. Your presence symbolises the strength of the bonds we have forged and serves as the beacon of hope for future collaboration and partnerships."
His Majesty after listening to the story of the native and royal of the Asante Kingdom which is linked to the fort, embossed his pride in a letter to the country.
The letter has been cased in a message frame and has been displayed in the fort.
It reads, "I stand here with pride to be able to cherish the symbol of both the beloved Trinidad and Tobago and Ghana, a signal post designed by my son."
By Hajara Fuseini
August 3, 2023
Copyright Manhyia Palace 2023