Foreign Golf Professionals Present Portrait To Asantehene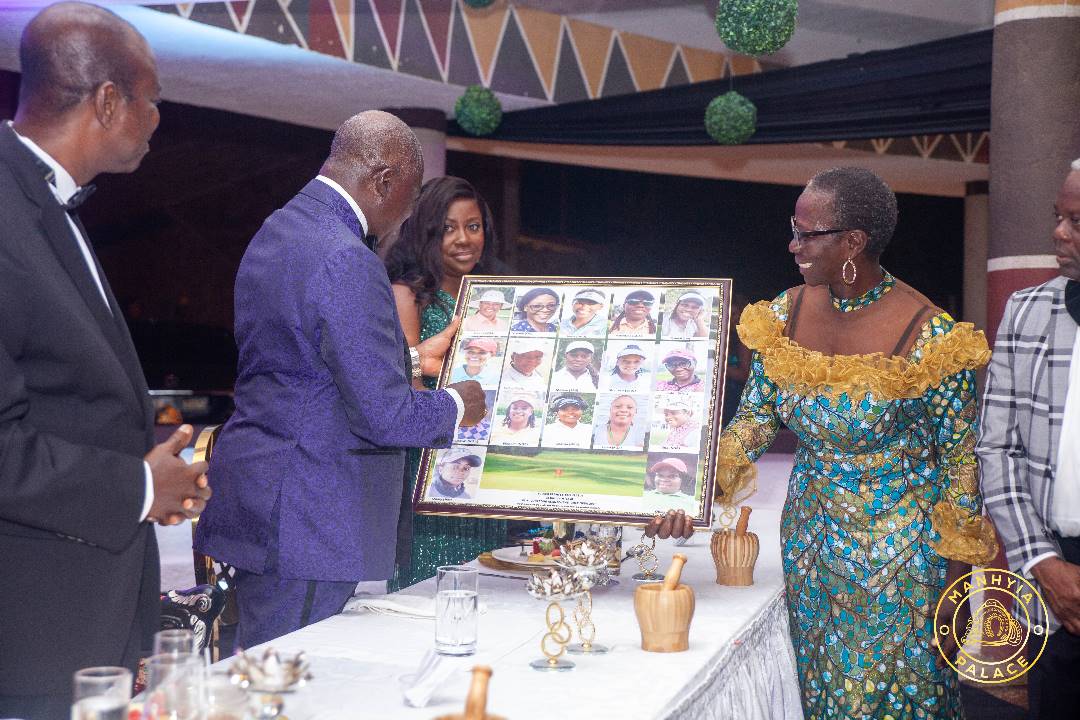 A group of foreign female golf professionals has shown their appreciation to Asantehene Otumfuo Osei Tutu II for his support for the game.
The professionals presented a portrait which houses the pictures of some 17 professional African female players to the King.
The presentation was done during a dinner to award winners of the various categories of the 66th Asantehene Open Golf Championship at the Lancaster Hotel in Kumasi on Saturday, June 17, 2023.
The portrait, they said, was a token of their appreciation for the support and reception they have received from the King who is the life patron of the Royal Golf Club- organisers of the tournament.

"Everything around us has been royalty. We appreciate you so much. And we will want to give a little token," a spokesperson of the group said before the portrait was presented to the King.
They also thanked Ghanaians for being "wonderful" to them during their stay in the country for the tournament.
The women numbering 13, were part of the foreign golfers from different African countries.
The king appreciated their gesture toward him.
This year's competition witnessed professional and amateur players from Ghana, Nigeria, La Cote D'Ivoire, Togo, Zimbabwe, Senegal and Uganda.
"The number of foreign participation was unprecedented in our history. 16 professional men and 13 ladies professionals from five countries. In total, 237 professionals, amateurs in different categories took part in the tournament and this is commendable," the Chairman of the Management of Royal Golf Club, Mr Kwesi Atta Antwi said at the event.
By Hajara Fuseini
June 19, 2023
Copyright Manhyia Palace 2023