Hundreds Of Afigya Kwabre Students Get Free Dental Care Courtesy Asantehene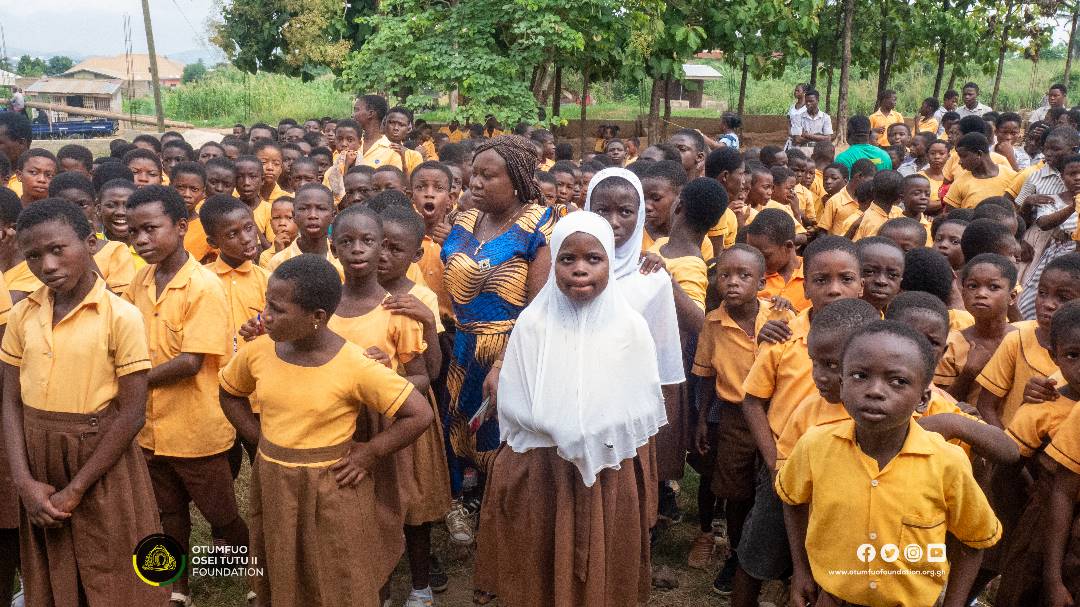 The Afigya Kwabre District was the next stop for the Otumfuo-Smile Mobile Dental Outreach team on Tuesday, May 23, 2023.
Specifically, they visited Ebombomfa D/A Primary and Junior High School (JHS).
All 650 students in the school received dental attention including education, screening, scaling and extraction for free.
120 of them underwent scaling and polishing whereas 11 others had their tooth extracted.
Dental education was provided by Mrs Philomina Owusu Baafi, one of the dentists.
The students were also given free toothbrushes.
The Headmistress of the school, Mrs Juliet Ode, appreciated the foundation for the initiative. She said it will go a long way to improve regularity by learners as well as their academic performance.
"We are much grateful to Otumfuo Foundation and Smile For Everyone Foundation for sponsoring a dental screening in our school," she said and then added, "We hope this will be extended to all learners in Afigya Kwabre South."
She further implored, "We want Otumfuo to turn to Ebombomfa D/A JHS so that our students will benefit from the reading competition and other initiatives."
Abdul Karim Alfa, the headteacher of the school said, "We thank Otumfuo Foundation for bringing dentists to the school. They have been here since morning screening all the students. All students with cavities and other infections were given the necessary dental care. We also thank Smile For Everyone Foundation."
Some students who spoke with opemsuo.com's correspondent with the dental team, Desmond Kwarteng, expressed their gratitude to the King of the Asante Kingdom for instituting the initiative.
About Otumfuo Mobile Dental Outreach
It is a project of the Otumfuo Osei Tutu II Foundation in collaboration with the Smile For Everyone Foundation and partnered by Opemsuo Radio.
It is under the theme, "everyone deserves a smile" and aims to bridge the gap between rural and urban health.
In every school the team visits, it provides screening, scaling and polishing, extraction and educational services to students.
By Hajara Fuseini
May 25, 2023
Copyright Manhyia Palace 2023