I'm Comforted; Otumfuo Reacts To Asanko Progress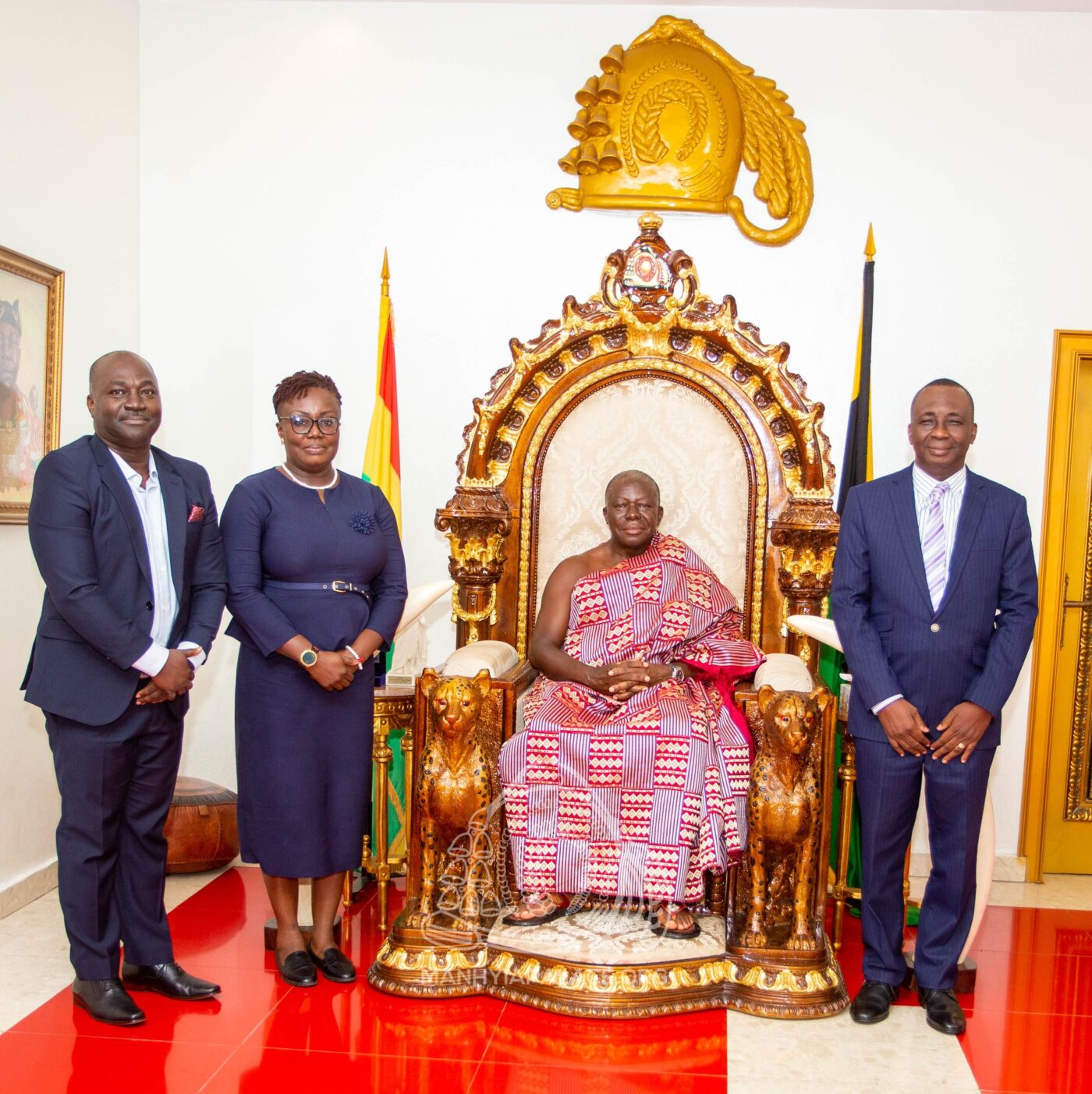 Otumfuo Osei Tutu II has heaved a sigh of relief following a report from Management members of Asanko Gold Mine Limited on the progress of the company.
Addressing a delegation from the company, His Majesty shared his concerns about the challenges the company went through months past.
The delegation included the Vice president of the company, Dr Charles Amoah, his Personal Assistant, Mr Derrick Isaac Asamoah and the Administrative Officer of the Company, Stella Osei Tutu.
Updating Otumfuo about the progress of the Company, Mr Amoah said Asanko won the Best Mining Company of the year during the year's Ghana Gold Mine Industry Awards.
He also said, "We have peace in the communities where we operate. We are also undertaking our responsibilities. We dedicate $2 on each ounce for developmental projects."
Among the projects, he said the company was undertaking include water closet units, a community Centre, and a classroom block, a teachers' quarters and a hospital in various communities the company is operating.
In terms of operation, he said, "about four months ago we came to inform Otumfuo about the low gold recoveries the company was making at Esaase pit. We suspended operations there and conducted metallurgical test work. After the test, we noticed that we can resume work but we will have to change some chemicals. We also have to conduct a reserved estimation to know the content of minerals in the land. We are doing these concurrently so that everything will be ready by February."
In reaction, Otumfuo expressed relief.
"I'm comforted by your report. At one point I got distressed by the state of Asanko Mines. This report you have given has comforted me."
He urged the leadership to continue with contributions to the community.
Source: opemsuo.com/Hajara Fuseini
By Hajara Fuseini
December 22, 2022
Copyright Manhyia Palace 2023