Last Akwasidae Coincides With Xmas "For First Time After 103 Years"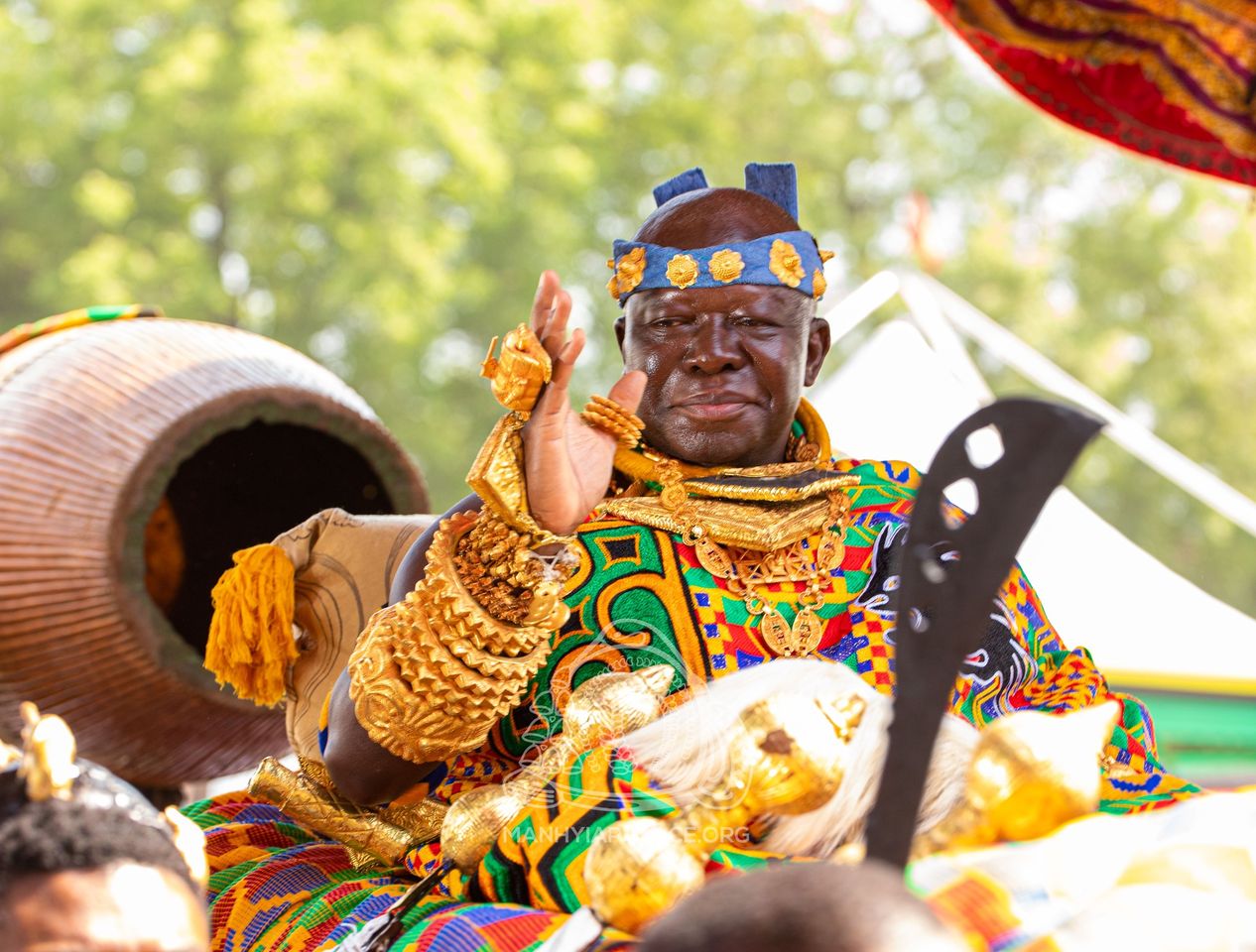 The Last Akwasidae of the year 2022 has been observed.
The colourful event fell on December 25, which marked Christmas.
According to the Chief of Kwabre Hemang, Nana Apau Ababio Wiafe Sawoansan, the last edition of the 2022 Akwasidae festival coincided with Christmas for the first time after 103 years.
This fact, he said, made the festival a special one among all other Akwasidae festivals observed.
"The last Akwasidae either falls in November or December but this one is special. I intentionally dressed this way today because it will be put down in history. My descendants will commemorate this day", he told Opemsuo Radio's Abedom Ghana in an exclusive interview.
Otumfuo Osei Tutu II and Asantehemaa Nana Konadu Yiadom III sat in state around noon to receive their guests.
The festival brought together traditional rulers, politicians, government officials, clergymen, Ghanaians from across the country and visitors from the diaspora together at Dwabrem at the Manhyia Palace to pay homage to Asantehene and Asantehemaa.
Others joined the event to catch a glimpse of the Asante culture and tradition.
Akosua Konadu Agyemang, a resident of Dunkwa-on-Offin in the Central Region told Opemsuo Radio's Head of News Department, Mr Kyeremateng Addo, the festival has reassured her of the hope for African tradition.
"I'm overwhelmed by the display of rich culture here today. I heard this takes place periodically but this is the first time I am experiencing it. It is thrilling. I thought the Western culture had overshadowed ours but after attending this event, I have realised that our culture is indeed alive. I can see it is being preserved and is dear to our leaders and that is what has made me happy".
Visitors
Among the visitors was the Awomefia of Anlo State, Togbe Siri III.
He was with a large entourage which included his chiefs and Member of Parliament of Korley Klottey constituency, Zenator Rawlings.
Other visitors included the Ashanti Regional Minister, Hon Simon Osei Mensah, Minister for Trade and Industries, Hon Alan Kwadwo Kyerematen, Presidential Advisor on Health, Dr Nsiah Asare and Metropolitan Chief Executive Officer, Samuel Pyne.
A delegation of Justices led by Chief Justice Kwasi Anin-Yeboah, a delegation of newly elected National Executives of the National Democratic Congress (NDC) led by Chairman Johnson Asiedu Nketia, a delegation of police officials led by COP Kofi Boakye, a delegation led by Zongo Chief in the Ashanti Region, Sultan Umar Farouk Saeed, a delegation led by the Apostolic Nuncio to Ghana, Archbishop Henryk Jagodziński, etc.
Security
Security-wise, the safety of guests was a priority.
Security officials could be spotted from all angles in and around the Manhyia Palace providing their services to visitors and officials at the event.
Business
The festival was business as usual for dozens as well.
Items ranging from food, water, calendar, khebab, traditional handmade leather slippers, traditional cloths, beads, etc were on display.
Whereas some hawked their products and items, others used movable stands to trade.
Source: opemsuo.com/Hajara Fuseini
By alugi12
December 25, 2022
Copyright Manhyia Palace 2023