Justice Anin-Yeboah, REGSEC, Millennium Excellence Foundation Join Otumfuo For Akwasidae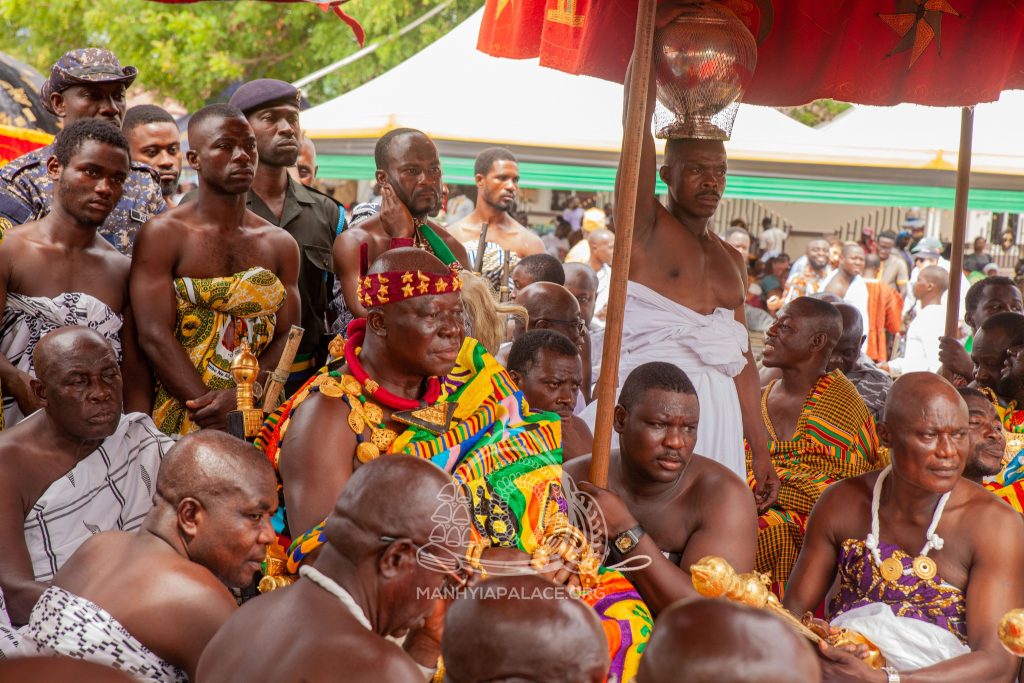 The fourth Akwasidae of the year at the Manhyia Palace, as always, was marked by magnificence and the exhibition of the rich culture and tradition of the Asante Kingdom.
Otumfuo Osei Tutu II sat in state to receive guests from across the country who came to pay homage on Sunday, June 11. Most of the guests were adorned in traditional outfits.
Among the guests were Retired Chief Justice Mr. Anin-Yeboah, the Ashanti Regional Security Council (REGSEC), Millennium Excellence Foundation, and the Zongo Nkosuohene.
Justice Kwasi Anin-Yeboah
The country's 14th Chief Justice, Kwasi Anin-Yeboah, officially informed Asantehene Otumfuo Osei Tutu II about his retirement and thanked him for his counsel which he said guided his decisions while in Office.
He retired from active service on May 24, 2023, after 21 years as a judge and three years as the Chief Justice.
He was accompanied to the Palace by some of the country's judges and the President of the Ghana Bar Association (GBA), Yaw Acheampong Boafo.
REGSEC
The Ashanti Regional Minister, Hon Simon Osei Mensah, also led a delegation made up of the Regional Security Council (REGSEC) to the event.
The delegation included the Member of Parliament for Bantama Constituency, Hon Francis Asenso Boakye, Regional Police Commander COP Afful Boakye, General Officer Commanding the Central Command Brigadier General Charles Prempeh Agyemang, Regional Prisons Commander, Regional Immigration Commander, and others.
Additionally, present at the event were the Asokore Mampong Municipal Chief Executive Officer, Hon Kennedy Kankam, the Regional NADMO Director, Frank Duodu, the Kumasi Metro Coordinating Director, and several others.
"We are here to celebrate the Akwasidae festival with Otumfuo," the Regional Minister said.
Millennium Excellence Foundation
The Foundation, of which the king is a life patron, introduced its new leadership to the King.
It was led by the President Ambassador Ashim Morton who now bears the name Nana Agyemang Prempeh.
Other members included Dr Ernest Ofori Sarpong, head of the Advisory Board, Anis Hafar, a member of the Advisory Board, Kobby Asmah, a member of the Advisory Board, Nathan Anokye popularly known as Bola Ray, a member of the Board of Governors, Dr Kwaku Oteng, a member of the Advisory Board, Linda Ampah, member of the Board of Governors, Joyce Ababio, Member of Board, Patricia Poku Diabey, a member of Board, Elinam Hogli, member of Advisory Board and Mukesh V Thakwani.
Speaking on behalf of the Foundation, Dr Ofori Sarpong pledged to be committed to the new roles and promised to contribute to the King's 25th Anniversary next year.
Zongo Nkosuohehene
The Nkosuohene of the Zongo Community, Alhaji Abdullahi Ali Barry was also present with his delegation to celebrate the festival.
By Hajara Fuseini
June 12, 2023
Copyright Manhyia Palace 2023