Newmont Supports Otumfuo Foundation With Nearly GHc2 Million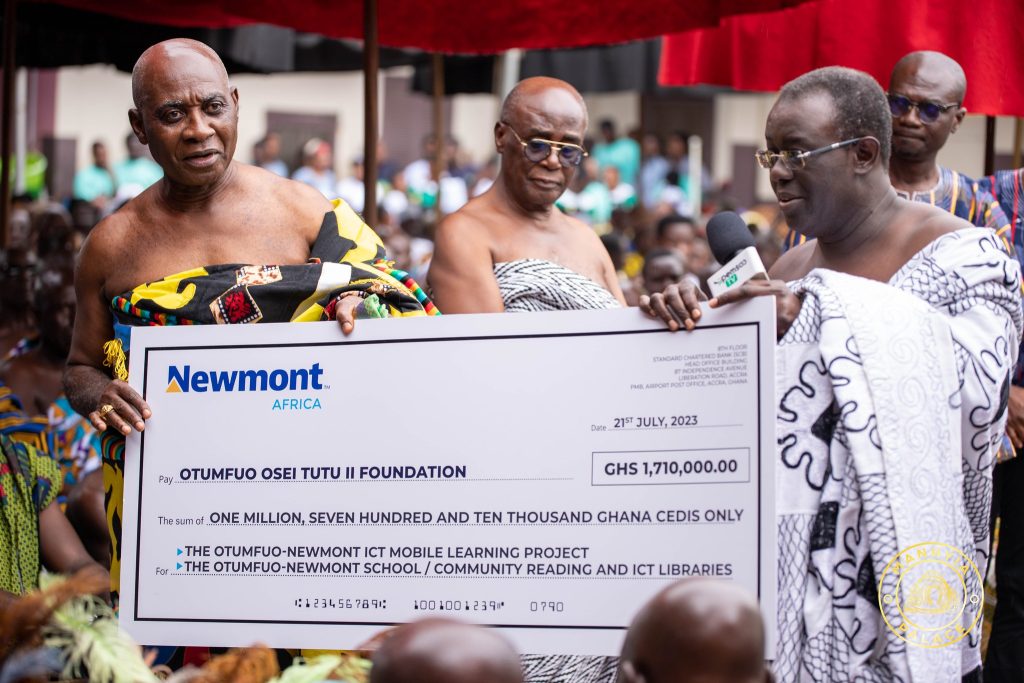 Newmont Africa has assisted the Otumfuo Osei Tutu II Foundation (OOTIIF) with nearly GH2 million as the foundation seeks to extend its wings and operate in different parts of the country.
The amount will be used to support two of the educational projects the OOTIIF is undertaking in the country- the Otumfuo-Agroecom Mobile Learning Project and the Otumfuo Community Reading Challenge.
Announcing the support package on Sunday, July 23, 2023, at the Manhyia Palace during the 5th Akwasidae of the year, the Director of Newmont Africa, Mr Kwame Addo Kufour said the company recognises the impact the Foundation is already making in education and conceded a further support would be relevant.
"It is worthy to be here for the Adae since our South and North concessions are in the jurisdiction of Asantehene… We are also here because of the Otumfuo Osei Tutu II Foundation which we all know how impactful it has been. The foundation approached us about their quest to take modern and advanced education to different parts of the country."
He said upon deliberation by the Management of Newmont Africa, the company agreed to support with an amount of GHC1,710,000 within the next three years.
A dummy cheque was presented before the King of the Asante Kingdom, Otumfuo Osei Tutu II by Mr Kufour.
Leading the delegation from Newmont was the Chairman of the Foundation, Prof. Oheneba Boachie-Adjei and the Executive Director, Nana Afia Kobi Prempeh.
The delegation from the company included the Director for New Mont Africa, Joseph Danso, Senior Manager of Sustainability in Ahafo North and the Regional External Affairs Director, David Johnson.
The Otumfuo Community Reading Challenge is a competition which aims at developing the interest of both the lingua franca (English Language) and our native Twi language whereas the Community Leaning Project seeks to bridge the gap between rural and urban education through the provision of laptops and GES-recommended books to aid students in the rural settings with practical Information and Communication Technology (ICT) and Reading lessons respectively as well as to a Community Cinema sessions.
By Hajara Fuseini
July 24, 2023
Copyright Manhyia Palace 2023