Prempeh College Presents Global Robotic Competition Trophies To Asantehene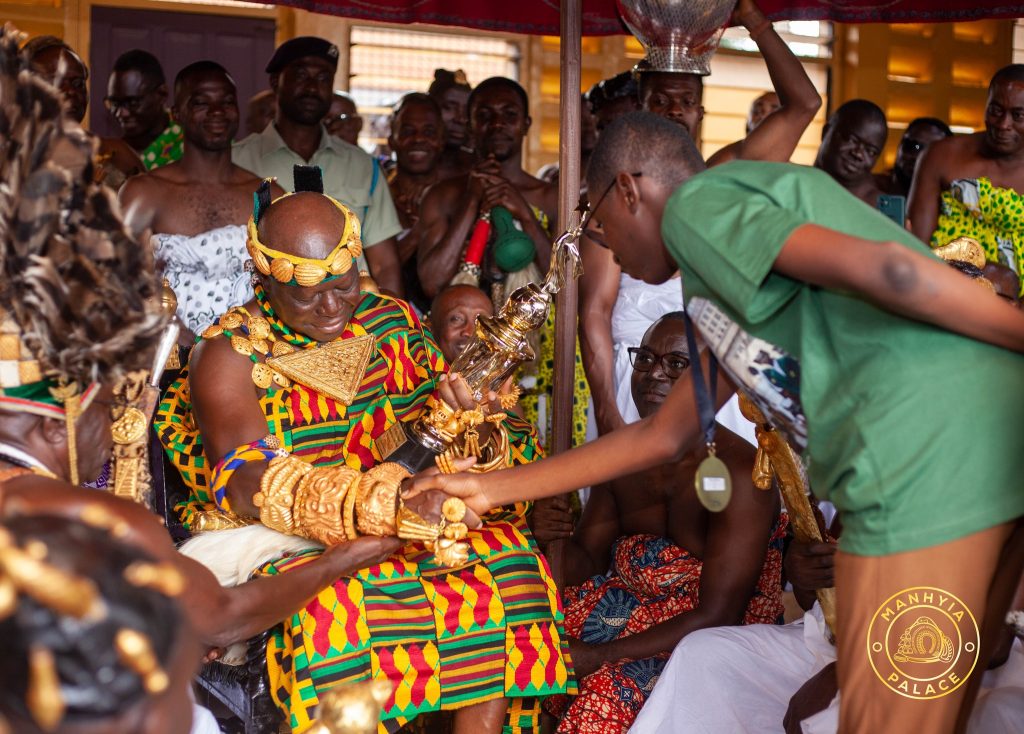 The Robotic team of Prempeh College has presented the two championship trophies they secured at the 2023 Robofest in the United States of America (USA) in May to the Monarch of the Asante Kingdom, Otumfuo Osei Tutu II.
They won the Senior Bottle Sumo Unlimited Category and the Time Trial category of the championship which was organized in person at the Lawrence Technological University in Southfield, Michigan, USA.
Ahead of their trip for the competition, His Highness through his foundation supported the team with GHC17,500.
Storming the Manhyia Palace on Sunday, July 23, 2023, with the trophies the team thanked his Majesty for the support and blessings which they said contributed to their victory.
Speaking on their behalf, the Chairman of the Otumfuo Osei Tutu II Foundation, Prof. Oheneba Boachie-Adjei said, "These students emerged victorious in the national robotic competition and advanced to the global level. They came to the Foundation and we supported them. In Michigan, they emerged victorious. They are here to inform the King about their victory and seek his blessings."
The delegation from the school included the headmaster, Mr Aaron Atuah Gyewu, Acting President of Old Students, Anthony Osei Poku, Robotic Club President, Seth Afeku, Team Captain, Kofi Acheampong, Strategist, Caleb Alhassan and other members of the team.
The Robofest World Championship is designed to foster and support Science, Technology, Engineering, Arts, and Math (STEAM), AI and Computer Science.
It aims at developing essential skills such as teamwork, leadership, creativity, communication and problem-solving, and eventually prepares students to excel in higher education and technological careers.
By Hajara Fuseini
July 24, 2023
Copyright Manhyia Palace 2023