Otumfuo Briefed About MoU With University Of Memphis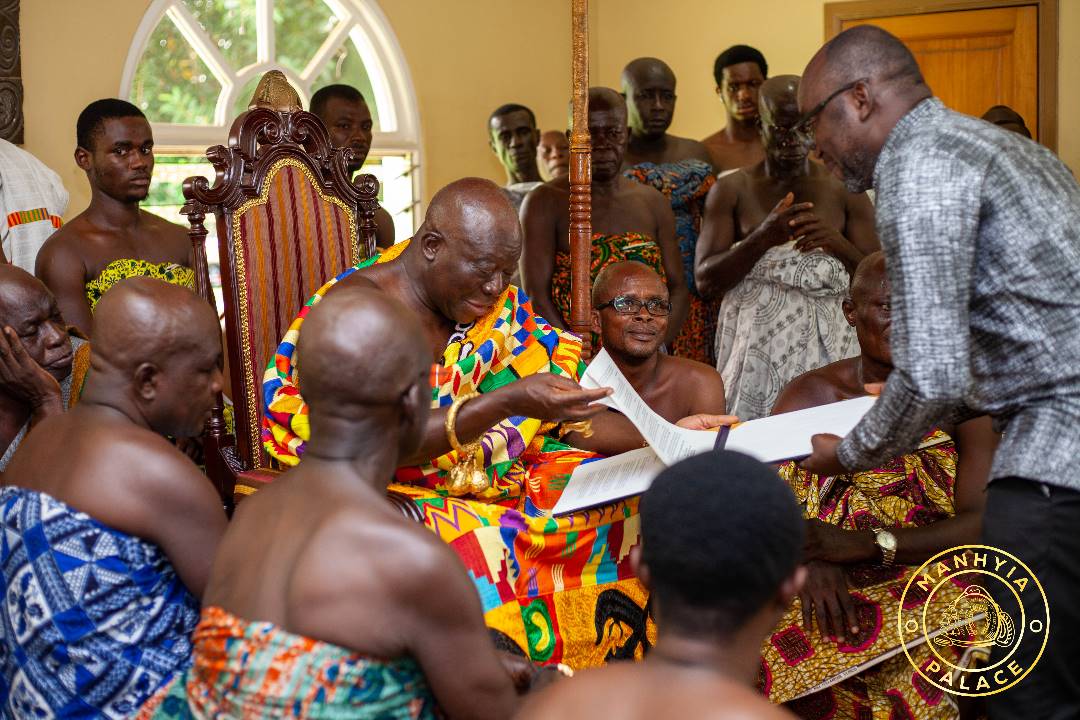 Asantehene Otumfuo Osei Tutu II has been presented with a copy of the Memorandum of Understanding (MoU) between the Ghana Scholarships Secretariat and the University of Memphis.
The MoU was birthed courtesy of the King.
During a courtesy call at the Manhyia Palace on Wednesday, May 24, the Registrar of the Ghana Scholarships Secretariat, Mr Kingsley Agyemang, accompanied by the National Organiser of the New Patriotic Party (NPP), Henry Nana Boakye and other executives of the Secretariat, presented the King with a copy of the MoU.
In his speech, Mr Agyemang said the effort of the King was historic.
"Otumfuo is the first King to secure a scholarship for Ghanaian students."
According to him, GHC50 million will be released annually for students per the agreement.
In response, Otumfuo Osei Tutu II expressed confidence in the Secretariat and urged them to award the scholarship base on merit.
"I know you will distribute this well to bring honour to me," he stated.
The King, while addressing the University of Memphis as part of his invitation to partake in the traditional Memphis In May Festival in 2022, called for a collaboration between the University and the Kwame Nkrumah University of Science and Technology (KNUST) in Ghana.
Exactly a year down the line, this has been realised.
A Ghanaian delegation led by Mr Agyemang signed the MoU in the USA.
The Ghanaian side included Richard Gyamfi (Head of International Relations & Partnerships) Janet Koranteng (Head of Treasury, Ghana Embassy, Washington D.C.), and Nana Owiredu Wadie (Member, of Scholarship Review Committee).
The University of Memphis was represented by Dr Abby L Parril (Interim Provost), Raaj Kurapati – (Executive Vice President and Chief Operating & Financial Officer), Dr Balaji Krishnan (Vice Provost), and International Affairs Mrs Rebecca Laumann, M. Phil., – Executive Director, Center for International Education Services.
Under the deal, qualified Ghanaian students will travel to Memphis University to undertake their undergraduate, master's and PhD.
Up to 70 per cent of the opportunity is reserved for students who will undertake courses in Science, Technology, Engineering and Mathematics (STEM).
By Hajara Fuseini
May 24, 2023
Copyright Manhyia Palace 2023