Afia Kobi Engineering Club Introduced To Otumfuo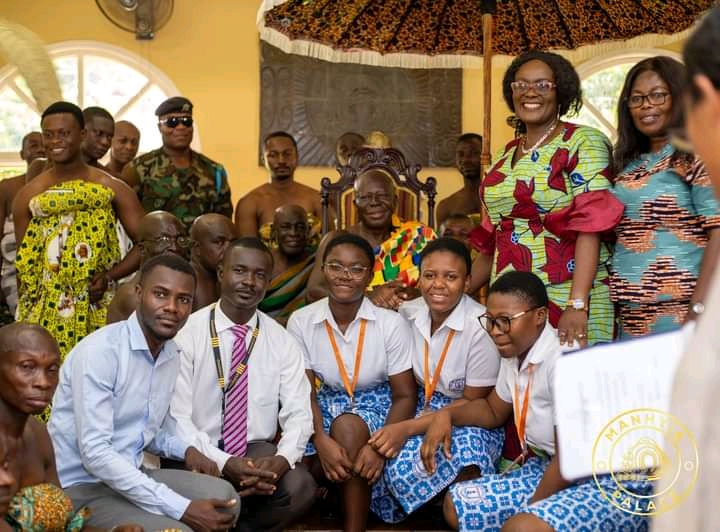 The Engineering Club of Afia Kobi Serwaa Ampem Girls' Senior High School and one of its works have been introduced to Asantehene, Otumfuo Osei Tutu II.
This was during the fourth Awukudae of the year on May 24.
They were led by the headmistress of the school, Mrs Silvia Newton and other management members of the school as well as the District Director of Education for Atwima Kwawoma, Mrs Doris Ofori.
Speaking on behalf of the delegation, Mrs Newton expressed her appreciation to Otumfuo for asphalting the streets in the school. She said the asphalted road has made it motorable and conducive for students and staff members.
Wishing the King well for his 73rd birthday, the delegation presented him a cake.
Introduction Of Engineering Club
The Engineering Club of the school was further introduced.
It was represented by three of its members who identified themselves as Humayat Osman, Gloria Anyelegbe and Benedicta Oduro as well as one of their tutors, Mr Ferdinand Sam.
Their invented Naval Maritime patrol aircraft was also presented to the King.
The team in April this year came to the  limelight after a video of their flying aircraft went viral.
The management of the school said the idea of an Engineering club came about after Mr Ferdinand Sam came to the school and made a proposition.
Sharing his inspiration, the tutor told the King, "I have noticed since childhood that our educational system is mainly theoretical which accounts for the country's unemployment rate. I decided to impart some of the knowledge I have in engineering so in the first school I got posted, I established an Engineering club. Mostly it's science and engineering students who engage in these crafts but I realised there are students with different course backgrounds with interest in the field.
"When I came to Afia Kobi, I consulted some of the leaders and we proposed it to the headmistress and she gave us the nod. We have a lot of projects but this is the most popular of all."
One of the students told the King the initiative has opened them up to career opportunities and sharpened their in-depth knowledge of science.
Asantehene expressed his delight in Mr Ferdinand and underscored the need for such inventions for the development of the country.
"Our greatest mistake was in the saying that art students are not good in science. That is not true. How is it possible that a person who is able to visualise and make a painting cannot read science? I will encourage him to continue with the good work."
He also assured the school of the necessary support for the Club and urged the students to push further.
He further promised to visit the school and witness a test-fly of the aircraft.
By Hajara Fuseini
May 24, 2023
Copyright Manhyia Palace 2023