Otumfuo Foundation Offers Scholarship To 25 Brilliant But Needy Students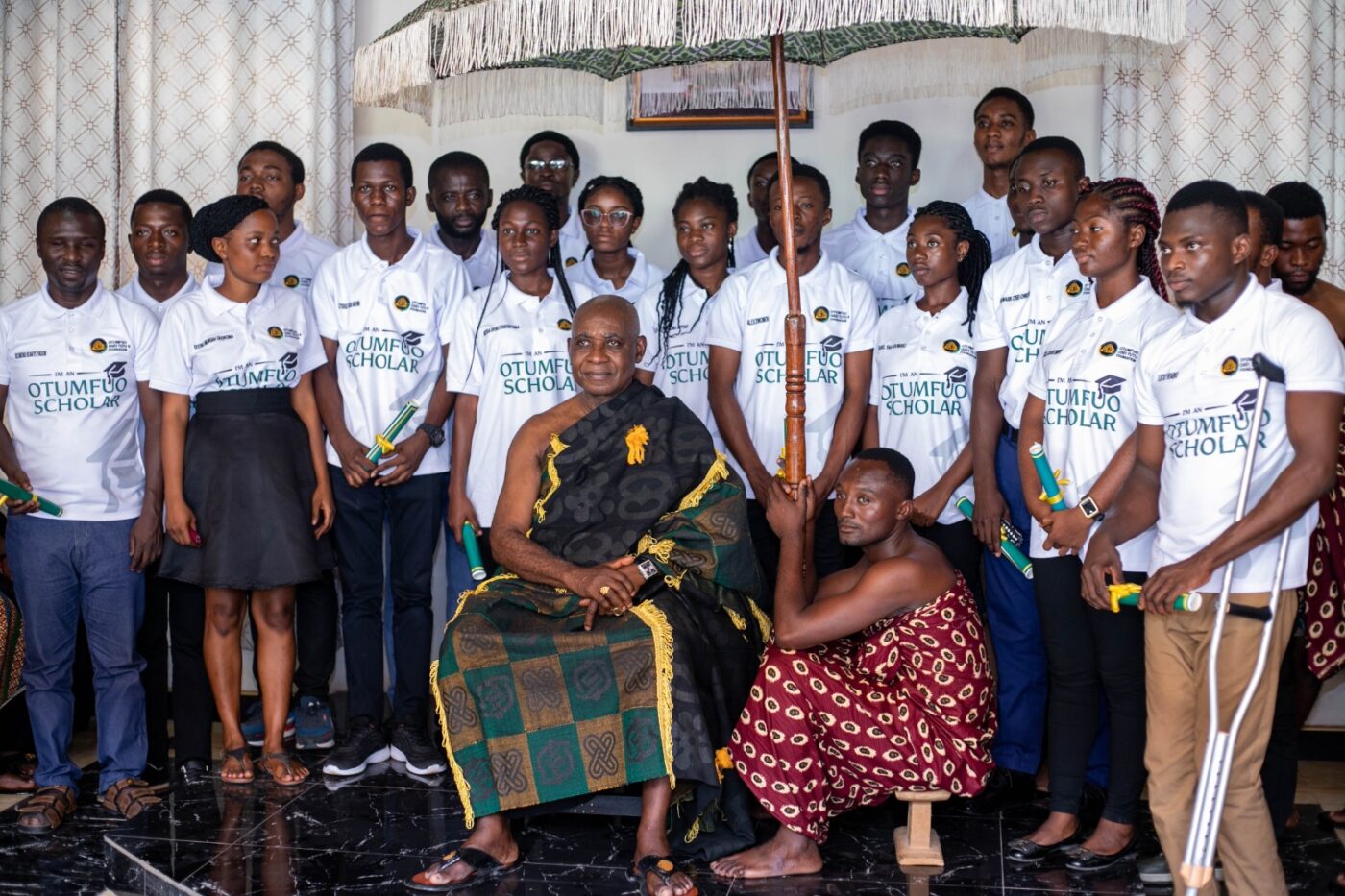 Otumfuo Osei Tutu II Foundation has offered scholarships to twenty – five (25) students with the majority pursuing Science, Technology, Engineering and Mathematics (STEM) related courses at various Tertiary Institutions in the country for the 2022/2023 academic year that has just begun.
The students from various universities whose scholarships amounted to One Hundred and Two Thousand, Eight Hundred and Nine Ghana Cedis, six pesewas (102,809.06) expressed their profound gratitude to His Royal Majesty, Asantehene, for making it possible for them to continue their education through the benevolence of his Foundation.
The Board Chair of the Foundation Nana Professor Oheneba Boakye- Agyei Woahene II, who is also the Otumfuo Hiahene in receiving the students, advised them to make the best out of the opportunity that the King has offered them by taking their studies seriously in order to excel in their disciplines of study. He asked the beneficiary students to relish the offer, noting that they were selected from over 100 (one hundred) students who applied for scholarships from the Foundation.
The offer, OTUMFUO SCHOLARSHIP RECIPIENT PROGRAM FOR HIGHER LEARNING, by the Otumfuo Osei Tutu II Foundation to brilliant but Needy students is one of the Projects that the King's Foundation has over the years undertaken in its Education thematic area in addition to its I.C.T Mobile Learning for Rural Basic Schools, Mass Distribution of Textbooks, Otumfuo Community Reading Challenge, Teachers Awards among others, to help improve education in Asanteman and Ghana.
According to Nana Professor Oheneba Boakye-Agyei Woahene II, who personally handed the financial sponsorship to the beneficiaries, it is time that Corporate Ghana and Philanthropists make conscious efforts to complement the activities of the government to make Science, Technology and Mathematics (STEM) a key strategy towards producing middle-level manpower that will propel the country's socioeconomic development in the near future.
The Foundation works under five (5) key thematic areas of Education, Health, Water and Sanitation, Entrepreneurship as well as Culture and Heritage with the primary objective of enhancing the lives of the poor and disadvantaged by providing various interventions through projects and programmes for the people in Asanteman and Ghana.
Source: Otumfuo Foundation
By Hajara Fuseini
February 8, 2023
Copyright Manhyia Palace 2023