SA Minister Shares Collaboration Plans with Asantehene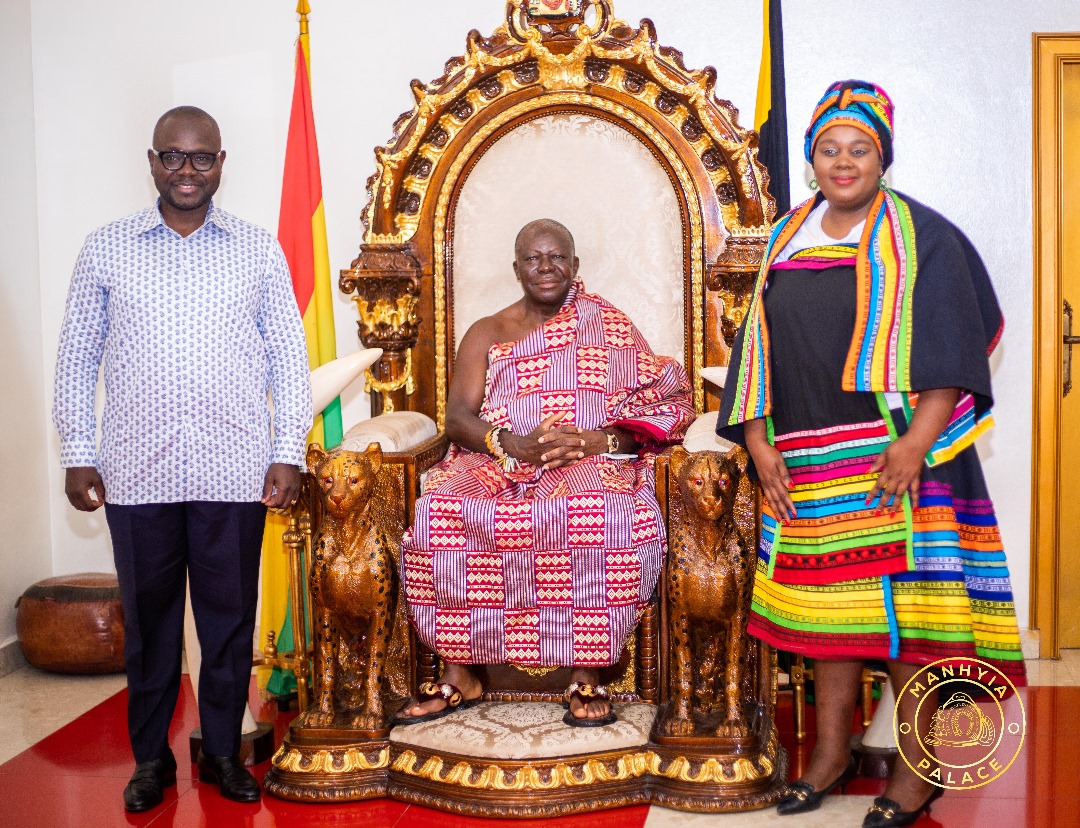 South Africa's Minister for Human Settlements, Hon. Mmamoloko Kubayi has elaborated to the King of the Asante Kingdom, Otumfuo Osei Tutu II, a probable partnership between her country and Ghana in the area of housing and human settlement.
It comes as she is in Ghana on a three-day working visit to explore avenues for collaboration in the sector as well as cement initial bilateral talks between herself and the Minister for Works and Housing, Hon Francis Asenso Boakye in Poland and South Africa.
During her stay in the country, she has held meetings with Hon Asenso-Boakye and President Nana Addo Dankwa Akufo-Addo.
She briefed the occupant of the Golden Stool on the envisioned collaboration during a courtesy call at the Manhyia Palace in Kumasi.
In her address, she said the collaboration should be a win-win one aimed at improving human settlement spaces to enable the African continent to evolve into a much more desirable place of settlement.
She hopes the agreement will be penned by the end of the year.
"If possible, it will be signed by the end of the year," she said adding that the agreement will be reviewed to deliver mutual benefit.
Productive Deal
His Majesty Otumfuo Osei Tutu II commended both sides for conceiving such an agreement and asserted that it would be the lifeblood of development at the bilateral level.
"These are collaborations we need for the development we need," he said, underscoring the importance of human settlements before alluding to Ghana's terrific flooding situation during the rainy season as a factor that must be factored into the agreement.
He noted it was about time Africa moved from conversations about liberation to forging realistic policies and collaborations for development.
He also urged both countries to take steps to bring their plans to fruition.
"I look up to the outcome not just in photo shoots. I want to see investors from South Africa come to Ghana and investors from Ghana go to South Africa."
Private Development
Otumfuo further wooed Hon Kubayi with the Asante Kingdom's vast litigation-free lands.
He suggested these lands could be acquired by private developers from South Africa for development. According to the King, the Ashanti Region is the best place for such a venture.
Courtesy
The duty call to the Palace by the visiting Minister was on October 27, 2023, in the company of the South African High Commissioner to Ghana, Her Excellency Grace Jeanet Mason and a delegation from South Africa.
They were led by Ghana's Minister for Works and Housing, Hon Francis Asenso-Boakye.
By Hajara Fuseini
October 27, 2023
Copyright Manhyia Palace 2023