Anlo State "Requests" Otumfuo's Presence At 2022 Hogbetsotso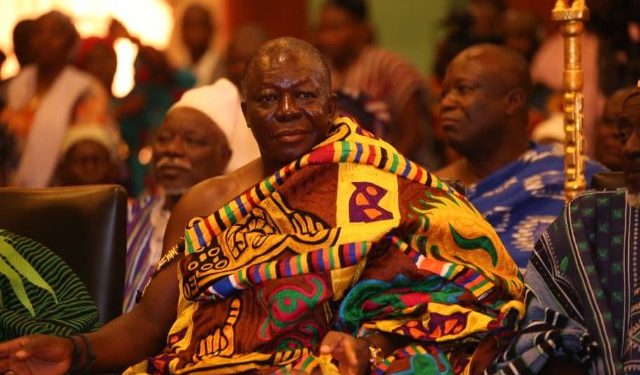 The Awormefia of the Anlo State, Togbe Sri III has entreated His Majesty Otumfuo Osei Tutu II, Asantehene to grace this year's Hogbetsotso festival.
The invitation was extended to the Asantehene by Togbe Tenge Dzokoto Gligui VII, the Dufia of Amugo-Wego Traditional Area who is also a member of the Volta Regional House of Chiefs, on behalf of Togbe Sri III.
On Wednesday, a delegation from the Anlo State made up of sub-chiefs and led by Togbe Tenge Dzokoto called on the Asante monarch at the Manhyia Palace.
Relaying their mission before the King through Gordon Kofi Wukanya- the linguist of Voltarians in the Ashanti region- Togbe Tenge said the paramount chief of their State has "requested that you grace this year's Hogbetsotso festival".
He Presented an invitation letter to the King and stressed, "it is not an invitation but a request".
He also indicated that the request for the Asantehene's presence is to complement the culture of the Anlo state with that of the Asantes during the festival- which is commemorated on the first Saturday of November each year.
Receiving the invitation, His Majesty expressed his eagerness to visit the State after failing to personally honour earlier invitations.
He said he will join the festival if he is not restrained culture-wise.
"I will peruse your invitation letter, if the date doesn't coincide with traditional demands or anything, I will attend", he assured the guests.
"We are grateful", Togbe Tenge said in response to Otumfuo's assurance.
On his part, linguist Gordon Kofi expressed his immense appreciation to the Asantehene for giving members of the Anlo state a piece of land in the Asante Kingdom in Kumasi.
He said, "Thank you for giving us land here at Anloga. We have Ashanti New Town in the Volta Region but it is not occupied by Asantes as is the case here".
This year's Hogbetsotso festival marks the 60th edition.
It will be celebrated under the theme, "60 Years of Anlo Hogbetsotso Za: Uniting for Development, Sustaining our Unique Cultural Commonwealth for Future Generations".
The festival will be celebrated in November and will climax with a grand durbar on November 5, 2022.
The festival is celebrated to remember the flight of the Ewe people from their tyrannical ruler, King Agorkorli in Togo.
Source: opemsuo.com/Hajara Fuseini
By Hajara Fuseini
October 19, 2022
Copyright Manhyia Palace 2023