Golf "Is The Only Way I Can Sneak Out Of The Palace"- Asantehene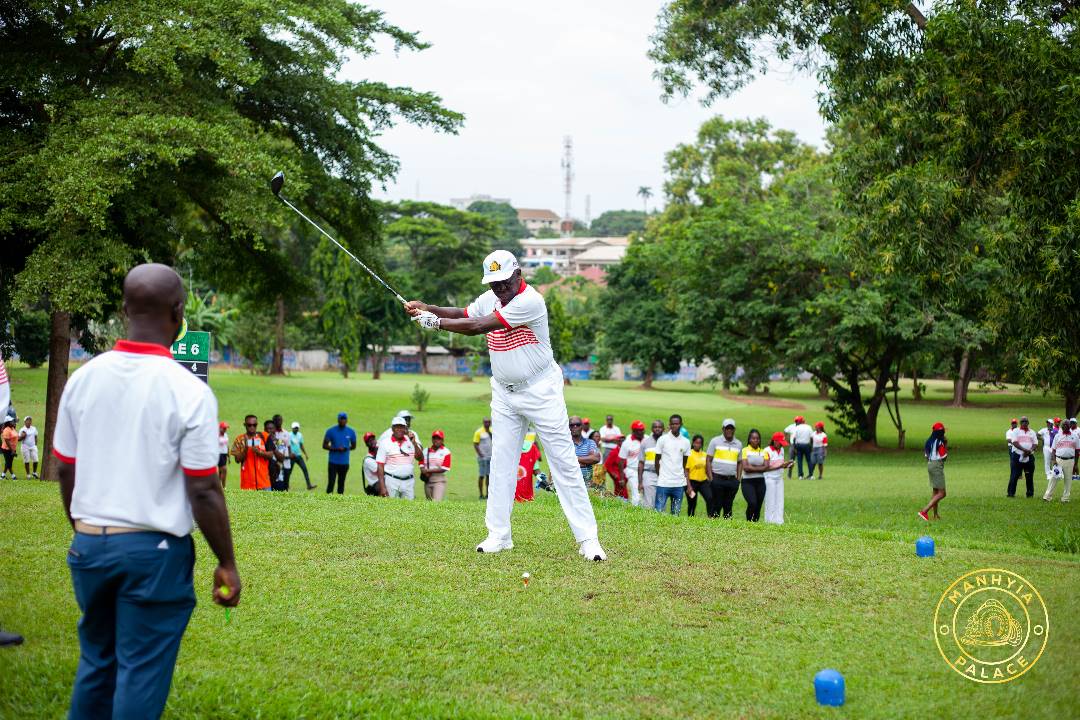 The King of the Asante Kingdom, His Majesty Otumfuo Osei Tutu II, has described golf as a source of strength, energy and respire from his busy daily schedule.
At the Lancaster Hotel in Kumasi on Saturday, June 17 where he held participants and sponsors of the 66th Asantehene Open Golf Championship to a treat, he shared his deep-seated affection for the sport.
The King has a tradition of visiting the Royal Golf Club each morning for golf sessions.
At the event, he disclosed the game gives him respire.
"The reason why I enjoy golf is that that is the only way I can sneak out of the Palace. Other than that, I'm kept in there and I have no way of going out so when I hear about golf then I am happy because I can sneak out to go and enjoy it."
At his age, he said he is able to go about his duties thanks to the same game. He highlighted that it revitalizes him and prepares him for the day's duty.
"That gives me the strength and the energy to carry on with my work."
Expressing his affection for the game, he said, "I eat golf, smell golf and then I play golf. And that is what keeps me going. I have two rooms in the palace full of golf items."
His Majesty performed the ceremonial tee-off for the official launch of the 66 Asantehene Open on Friday, June 16, 2023, at the Royal Golf Club.
He was joined by the Nigerian High Commissioner to Ghana, Ibok-Ete Ibas, Chairman of the Management of Royal Golf Club, Kwesi Atta Antwi, Chief of Manso Nkwanta Traditional Area, Nana Bi-Kusi Appiah and the Chief Executive Officer of Vodafone Ghana, Mrs Patricia Obi-Nai to play three holes.
The tournament began on June 14.
The Chairman of the Royal Golf Club, organisers of the competition, Mr Atta Antwi said this year's tournament had 300 golfers participating including about 46 international golfers.
By Hajara Fuseini
June 16, 2023
Copyright Manhyia Palace 2023