KATH CEO Receives Asantehemaa's Blessings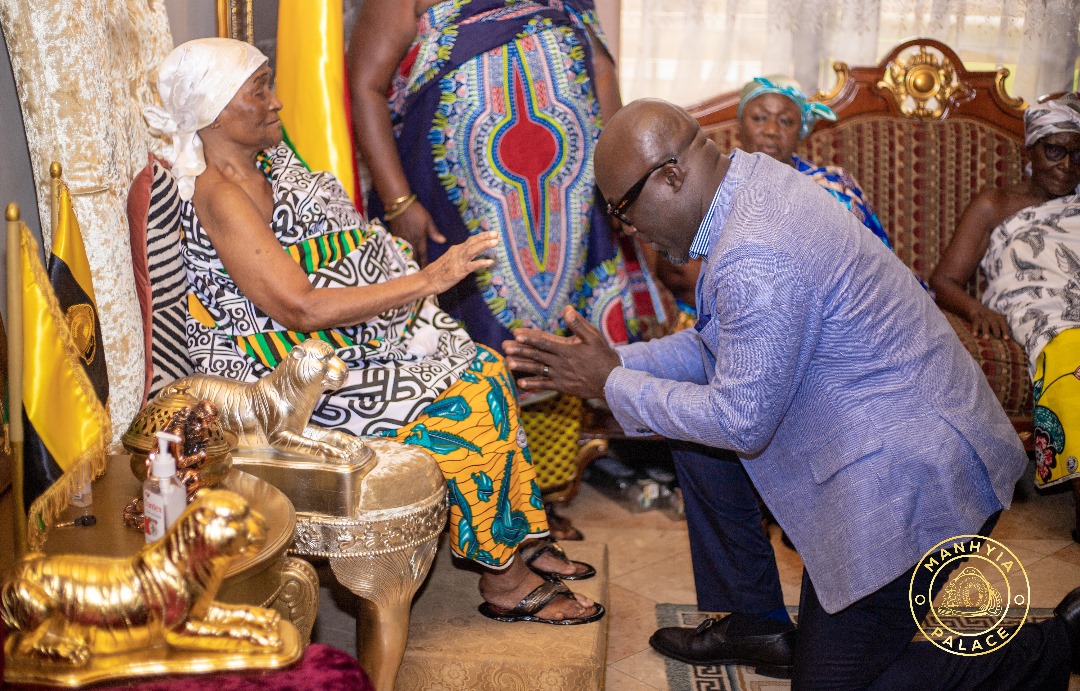 The Chief Executive Officer (CEO) of the Komfo Anokye Teaching Hospital (KATH), Prof Otchere Addai-Mensah had the honour of receiving the blessings of the Queen of the Asante Kingdom, Nana Konadu Yiadom III.
This was during a courtesy call on Tuesday, October 17, 2023.
The CEO led a delegation to the Manhyia Palace to make a formal introduction of himself to the Queen.
Among the delegation were the Consultant and head of the Oncology Directorate, Dr Osei Bonsu Bawuah and the Public Relations Officer (PRO) of the hospital, Mr Kwame Frimpong.
Following the introduction, the hospital head sought the Queen's blessings for the herculean task ahead. The Queen readily laid hands on him as he knelt before her and poured out her soul onto him.
Speaking to opemsuo.com after the visit, the PRO of the Hospital said the visit though delayed, was crucial.
"We have the opportunity today to introduce Prof Otchere Addai-Mensah to Asantehemaa. As we all know, we are subject to Manhyia and so it is needful to present yourself to the Palace when you come here to work. We have already introduced him to the King and today we have the opportunity to do the same with the Queen. He is here to take her blessings and counsel to guide his work."
On May 31, 2023, exactly six months after he assumed office, Prof Addai Mensah was formally introduced to the King of the Asante Kingdom, Otumfuo Osei Tutu II as successor of Dr Oheneba Owusu Danso- who retired in 2022.
The introduction was done by the Chairman of the hospital's Board of Directors, Ambassador Nana Effah-Apenteng.
By Hajara Fuseini
October 17, 2023
Copyright Manhyia Palace 2023