Otumfuo: Compelling Africa To Abandon Fossil Fuel Without Support Will Be "Unfair"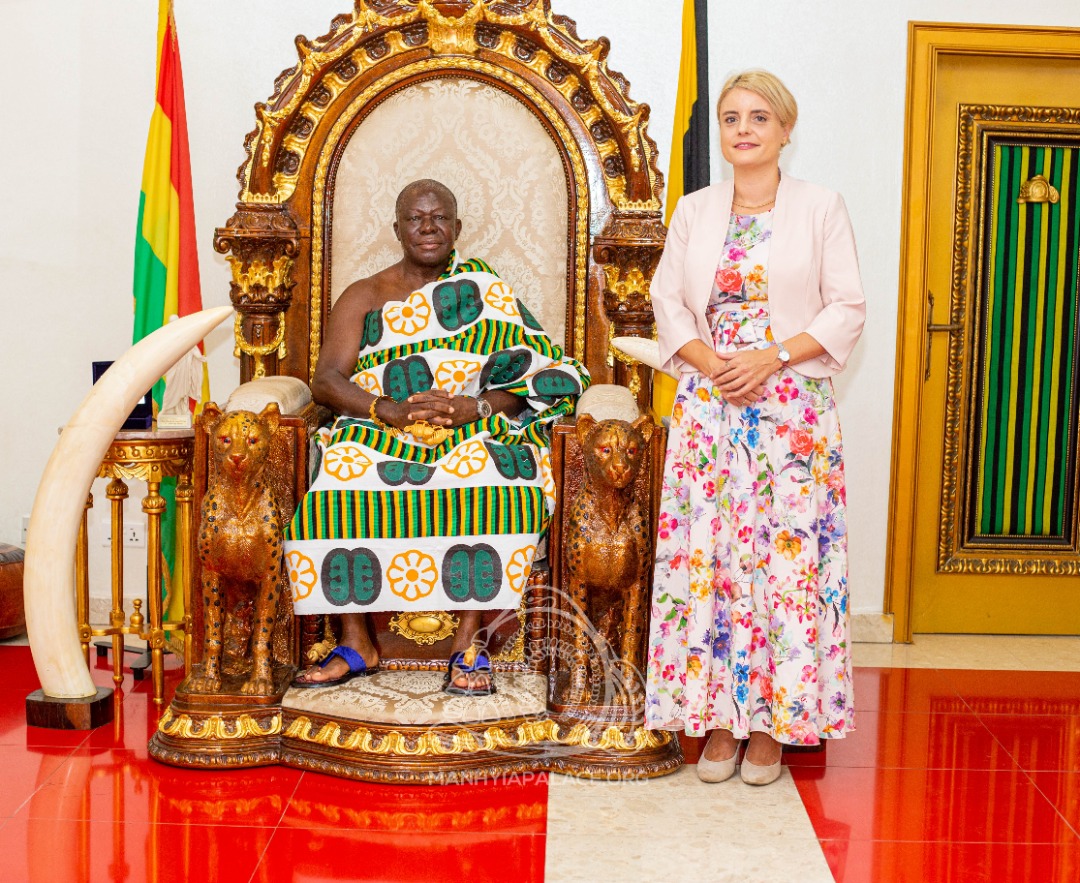 Asantehene Otumfuo Osei Tutu II has stated that it will be "unfair" to compel Africa to abandon resources as a means of dealing with threats of climate change at the expense of its development without the annual USD 100 billion pledge.
He noted that inasmuch as the continent is concerned about Climate Change, the livelihood of citizens must also be prioritised.
"If you push us to abandon fossil fuel without any support I think it will be unfair to us. We will need economic support that would help us transform. We are all concerned about climate change and at the same time, we are also concerned about our livelihood.
"Therefore if we are losing charcoal and everything, we have to get the West to assist us to develop. Our country can't abandon all we have unless we get the support."
He said this in response to the Swiss Ambassador to Ghana, H.E. Mrs Simone Giger's highlight of Climate Change as one of her core objectives in the country.
Among her objectives were Agriculture, Environmental Protection and Climate Change, Women empowerment and Local Government and Decentralisation Budget Support.
"One is cocoa. We have very strong relations for cocoa. We bought most of our cocoa from Ghana because it is the best and the highest quality. We visited cocoa farmers and we saw how cocoa is produced in a sustainable fashion.
"The second is environmental protection and climate change. We have cooperated with the Research Management Centre Development in the field of tree registration. This is very important in the field of re-afforestation. We also have cooperation with the Forestry Research Institute. We visited them and learnt about the various research they are doing like how the land can be reclaimed for instance after mining.
"We were very much impressed to see what the institute does and together with the Municipality in planting trees in Kumasi and making this the "Garden City" of the country. I always said it would be nice if these good practices could be transferred to Accra in the future. I also want to commend you for your landscape and its natural beauty. I also saw how you manage your waste in Kumasi and I find it exemplary. We have cooperated with the KNUST in the field of waste management for the next generation of engineers and scientists to work with.
"The third is related to women empowerment…We have supported a soap-making project. We visited the Women Association and we could convince ourselves of the viability of this project and we can see how we can do more to support women in the region.
"Last but not least is Local governance and Decentralised Budget support where Switzerland supports the Municipalities through the Common Fund…we visited the school in Sunyani that has been rehabilitated through these funds", she outlined.
The West has pledged to make available one hundred billion dollars (US$100 billion) annually to the poorer countries to assist in the fight against climate change.
The world also resolved on a "loss and damage" funding for vulnerable countries hit hard by climate disasters during the last Climate Change Conference in Egypt.
On Cocoa trade relations with Switzerland, the King assured of the quality.
"We have traded in cocoa. You introduced cocoa and all that I know you buy so much cocoa from us. My concern has been recently when people were talking about the use of children in cultivating cocoa so the West was refusing to buy from Ghana. I believe the mayor and the farmers have assured you that it's not true and that the premium on cocoa in Ghana is something we all treasure."
He also called for enhancement in the trade relation with Ghana.
Source: opemsuo.com/Hajara Fuseini
By Hajara Fuseini
November 28, 2022
Copyright Manhyia Palace 2023