Otumfuo Proffers Traditional System As Best Bet For Africa's Development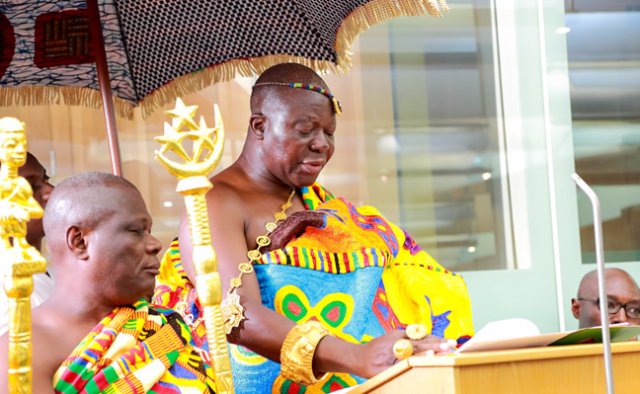 Asantehene Otumfuo Osei Tutu II has proffered the traditional system as the desirable form of government for Africa.
Drawing the line between the political system and that of the traditional system in his keynote address at the St Andrew Africa Summit in Scotland on September 16 2023, he said as the former hinders synergy, the latter embraces it to make way for development.
"Indeed, there are many who now believe our problems require the pulling together of all available talent and human resources but regrettably recognize that the realities of party politics make it impossible to achieve."
Otumfuo posited that the political system prioritises winning and retaining political power over the national interest.
This, His Majesty said, brings into focus the traditional system which provides the platform for greater collaboration in the process of decision-making on critical economic issues for management which overcomes the sensitivities of partisan politics.
"Surely, in a truly African setting, this is not impossible to contemplate," he asserted.
Another advantage of the traditional system, he added, lies in the fact that 80% of the population of Africa lives in the rural areas and their primary loyalty to "this mammoth community" continues to be with their chiefs.
"Inevitably, their leadership (chiefs) is critical in the quest for the development and prosperity of any country. And, contrary to the misconceptions of the times, the evidence is that wherever traditional leadership is strong, they are able to maintain peace and national cohesion."
By Hajara Fuseini
September 19, 2023
Copyright Manhyia Palace 2023