Asantehene Confident Africa Will Thrive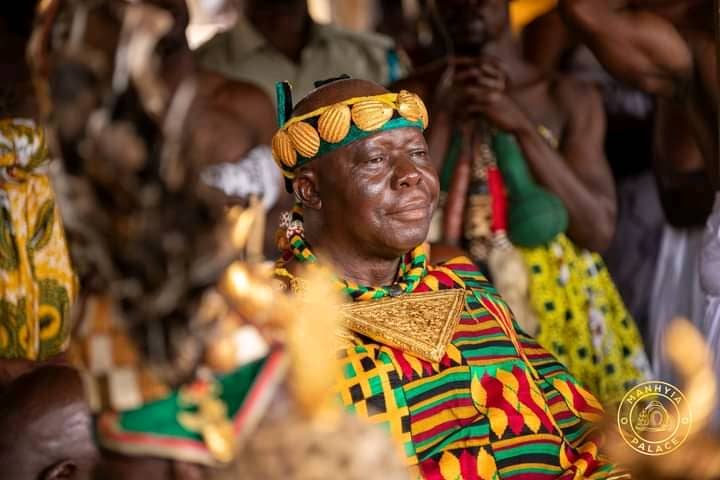 Otumfuo Osei Tutu II says he finds peace amidst the sinking boat of Africa just because he is confident the continent will bounce back to the path of development and a stable economy when it finally realizes its true identity.
He believes once the people on the continent refuse to continue languishing in the shadowy identity bestowed on them by the Europeans, its "bright" future will be discovered.
The King of the Asante Kingdom has therefore urged the world not to lose heart over the Continent.
"It is the reason I am not overwhelmed by the enormity of the challenges facing Africa and the reason I ask the world community not to despair about the condition of our beloved Continent. We are the children of the immortal Pharaoh, the children of Mansah Moussa, the heirs of Opemsuo King Osei Tutu, and the children of King Chaka the Zulu.
"We are what we were and will be what we were. Not the caricature of some proto-Europeans that history has portrayed us, but proud Africans confident in their destiny. I know where the destiny of Africa lies, where our future is," he said during a speech at the St Andrew Africa Summit (SAASUM) on September 16, 2023.
He has found the European political system of governance as the cause of the unpleasant challenges Africa has confronted since independence.
According to him, democracy is not a "one-size fits all or a package for simple straight transplant".
"I have always had a brilliant surgeon in my team and if I didn't know, at least he would remind me that there is nothing like a simple transplant. So much has to be done to prepare the body before a transplant, otherwise, you risk the trauma of organ rejection. As with the body, so it is with the polity. However you package a system of governance, it will only survive in the right environment.
"Unfortunately, we in Africa have been obliged to succumb to the proposition that merely transplanting a multi-party electoral system is sufficient to guarantee the sustenance of democracy and achieve the development goals of the state. I fear this is a grave error and I say so, not because I do not accept democracy but because what we see only postulates a caricature of what democracy, in its fullest sense, should be."
He noted, "Africa should look to its past to find its future. And that future can only be as bright as the African sun."
As Africa journeys across self-discovery, Otumfuo urged the world to lend its support to the continent.
"What we need from the world community is understanding and support, genuine support to our efforts to overcome the ravages of economic woes. In that setting, we can look forward to a strong, regenerated and developed Africa, enriched by the inspiration from its glorious past, sharing prosperity with the rest of the world in peace and harmony."
By Hajara Fuseini
September 19, 2023
Copyright Manhyia Palace 2023