Students Of Effiduase D/A "C" Benefit From Otumfuo Dental Outreach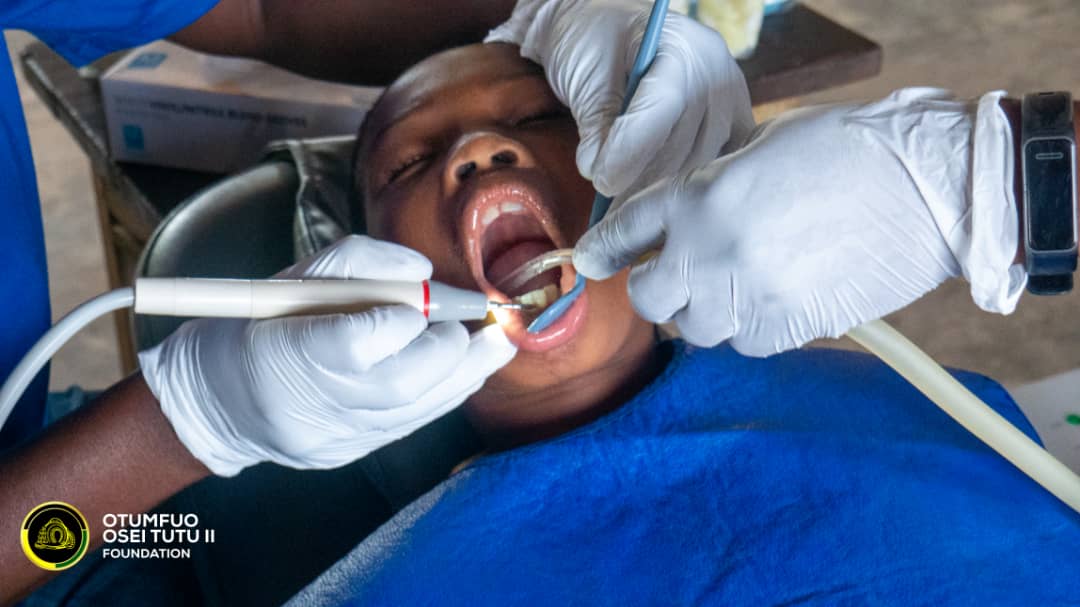 The van of the Otumfuo Mobile Dental Outreach stopped at Effiduase D/A "C" school in the Sekyere East District of the Ashanti region on Friday, May 5, 2023.
The team provided students of the school with education on oral hygiene, diseases and protection.
Education
Mrs Evelyn Boakye, one of the dentists with the team provided the students with all the necessary information about the teeth and their protection.
Touching on diseases like cavities, bad breath and bleeding gum that can affect the teeth, she said, "Food particles left in the teeth attract bacteria produce acid and cause cavities. This can even kill…Sweets exacerbate this.

"Bleeding gum is caused by a buildup of plaque at the gum line. Cavities, bleeding gum, not brushing the tongue, excessive intake of garlic and onion, not brushing and catarrh cause bad breath."
She said these can be prevented through regular brushing of teeth with tooth paste containing fluoride.

On the best way to brush the teeth, she practised with a tooth dummy.
"There is no need to fill your brush to the end with toothpaste but before that make sure you wash the brush. Hold the bristles gently against the outside of your top teeth, near the gum line, at about a 45-degree angle upward. Sweep the brush gently back and forth over teeth and gums in soft strokes — or, if you prefer, use an elliptical (circular) motion to clean the teeth. When it comes to the tongue, you do it gently to avoid damaging your taste receptors" she said as she practiced.

Aftermath
After the education, all students in the school including the primary and Junior High School (JHS) students were screened by the dentists. 120 of them had their teeth scaled and polished.
Eight others underwent extraction. They were given medication to expedite their healing as well as other directions to avoid irritating the wound.
About Otumfuo Mobile Dental Outreach
It is a project of the Otumfuo Osei Tutu II Foundation in collaboration with the Smile For Everyone Foundation and partnered by Opemsuo radio.
It is under the theme, "everyone deserves a smile" and aims to bridge the gap between rural and urban health.
In every school the team visits, it provides screening, scaling and polishing, extraction and educational services to students.
By Hajara Fuseini
May 9, 2023
Copyright Manhyia Palace 2023