Yɛfiri Tete Kroyɛ Group Presents Asantehene Virgin Mary's Statue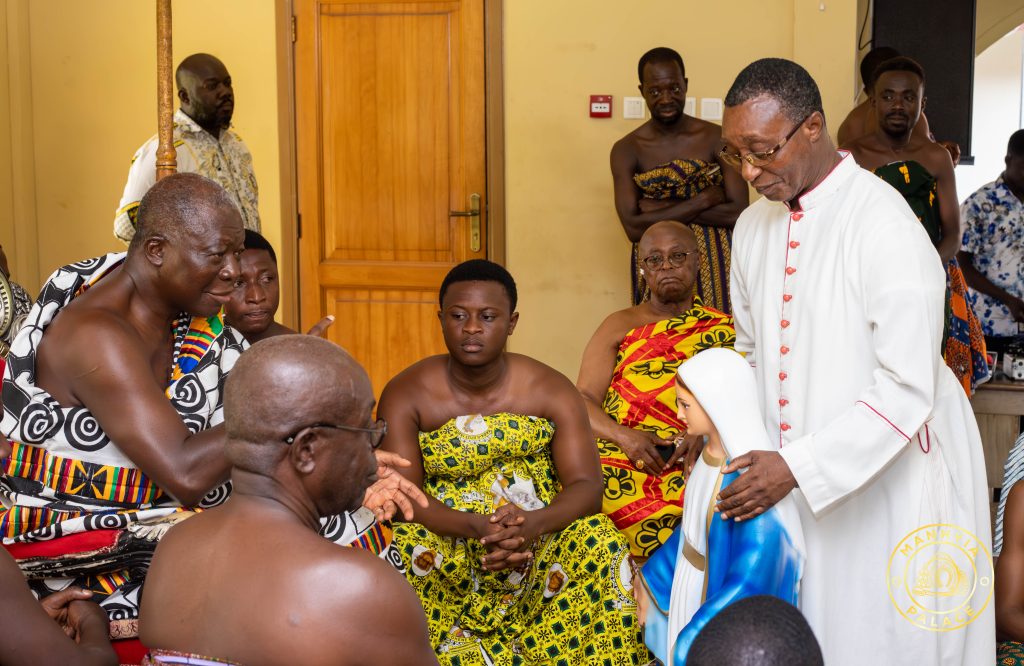 The Yɛfiri Tete Kroyɛ group of the Christ the King Parish has gifted the ruler of the Asante Kingdom, His Majesty Otumfuo Osei Tutu II, a statue of the Virgin Mary.
Appreciating the present, the King said it was the best gift he had received in the day.
The presentation of the statue on Friday, June 30, was part of their gifts when the group made up of Roman Catholic Asantes in Tema and Accra visited the Palace to inform Otumfuo about their upcoming 40th Anniversary.
The group was led by its Chairman, Dr Victor Antwi and one of its patrons, Nana Akosua Takyiaw, the queen mother of Abore.
In her address, Nana Akosua Takyiaw explained the essence of the Virgin Mary among their gifts stating that the King requires divine strength to go about his duties which is beyond the efforts of men.
The visibly delighted King labelled the gesture as the best gift he had received throughout the day.
"This is the best gift I have received today. I'm taking it to my prayer chapel at home. I have a small chapel at home. I will keep her there and set alight my candles. I know she has cleansed all my sins."
On their 40-year-year existence, he recalled, "When I was enstooled, they came to congratulate me and I encouraged them to do whatever they can to bring glory to the group. I told them there was nothing more joyous for me than seeing Asantes in Christ come together. This is because group means imparting the Asante culture and at the same time imparting the fear of God. This is how far you have come."
Commending them for their great contributions, he urged them to up their game in the coming years.
He also counselled, "There are young ones among you now, teach them commitment and determination. Our future leaders may come from you. Persons from this group who have occupied various high positions in this brought glory to themselves. Teach the little ones the same so they don't become greedy when they finally get to positions in the country."
In an interview, the Chairman of the group, Dr Antwi told Opemsuo Radio the objective of the group is to learn the culture and tradition of Asantes and also contribute to development in the educational and health sector in the Asante Kingdom.
By Hajara Fuseini
June 30, 2023
Copyright Manhyia Palace 2023