Asantehene Invites St Andrews University VC To 25th Anniversary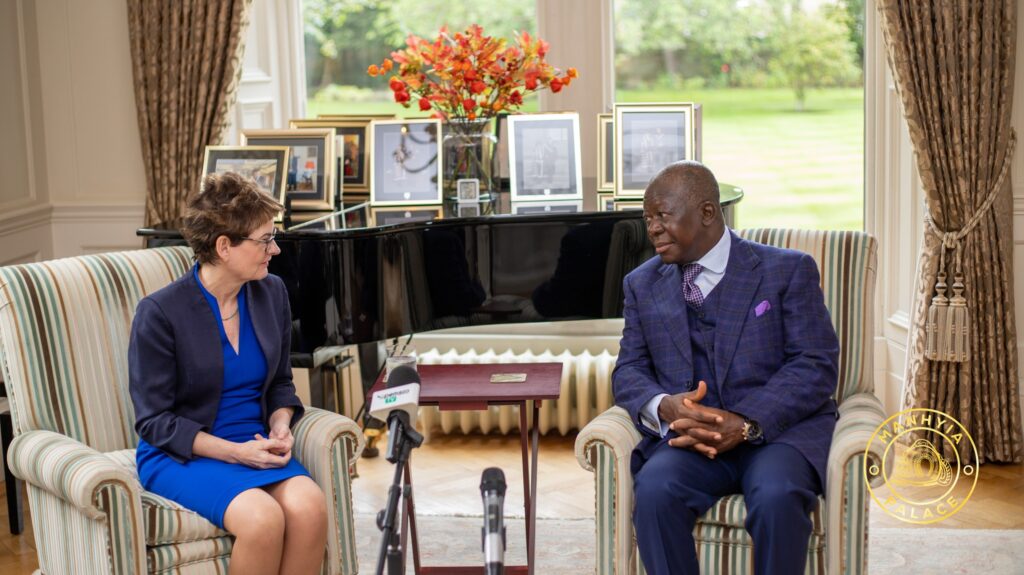 The Principal and Vice Chancellor of St Andrews University in Scotland, Professor Dame Sally Mapstone DBE FRSE, is among the first to receive a public invitation to the celebration of the Silver Jubilee of the King of the Asante Kingdom, Otumfuo Osei Tutu II.
The event is slated for April 2024 and invitations have begun reaching destinations for the celebration of the remarkable and exceptional reign of the occupant of the Golden Stool.
His Majesty extended an invitation to the VC when he called on her at her official residence on Saturday, September 16, 2023, ahead of his keynote address at the University's Africa Summit.
"With this, we are inviting you to the 25th Anniversary celebration of the coronation of the King which takes place in April next year. Since his coronation almost 25 years ago, his focus has been on education…it will be a fitting climax of the celebration if you come," the paramount chief of the Juaben Traditional Area said.
He said her presence will be formidable for the anticipated collaboration between the Kwame Nkrumah University of Science and Technology (KNUST).
The invitation was readily accepted by Professor Mapstone who characterized it as "irresistible".
"That's an irresistible invitation. I will be very very honoured. Thank you very much for the unexpected and very kind invitation," she said.
Otumfuo Osei Tutu II is the 16th monarch of the Asante Kingdom and ascended the Golden Stool on April 26, 1999, succeeding the late Otumfuo Opoku Ware II.
The King has made substantial contributions to education, health, water and sanitation, entrepreneurship, culture and heritage, peace, and development in Ghana.
His efforts have earned him global recognition, including numerous awards and honours such as the prestigious Pillar of Peace award.
In recognition of his outstanding contributions, a commemorative gold coin was launched in his honour by the Precious Minerals Marketing Company (PMMC) in collaboration with the E On 3 Group in 2021.
The following year, he was presented with a piece of St. Augustine's Cross, an award of merit given by the Archbishop of Canterbury to members of the Anglican Communion who have made significant contributions to the life of the worldwide Communion or a particular autonomous church within Anglicanism.
Plans are currently underway to launch philatelic stamps in honour of the King, through a collaboration between the International Intergovernmental Corporation and the Ghana Post Philatelic Committee.
By Hajara Fuseini
September 20, 2023
Copyright Manhyia Palace 2023