Otumfuo Extols Quiz Mistress Kaufman, NSMQ Organisers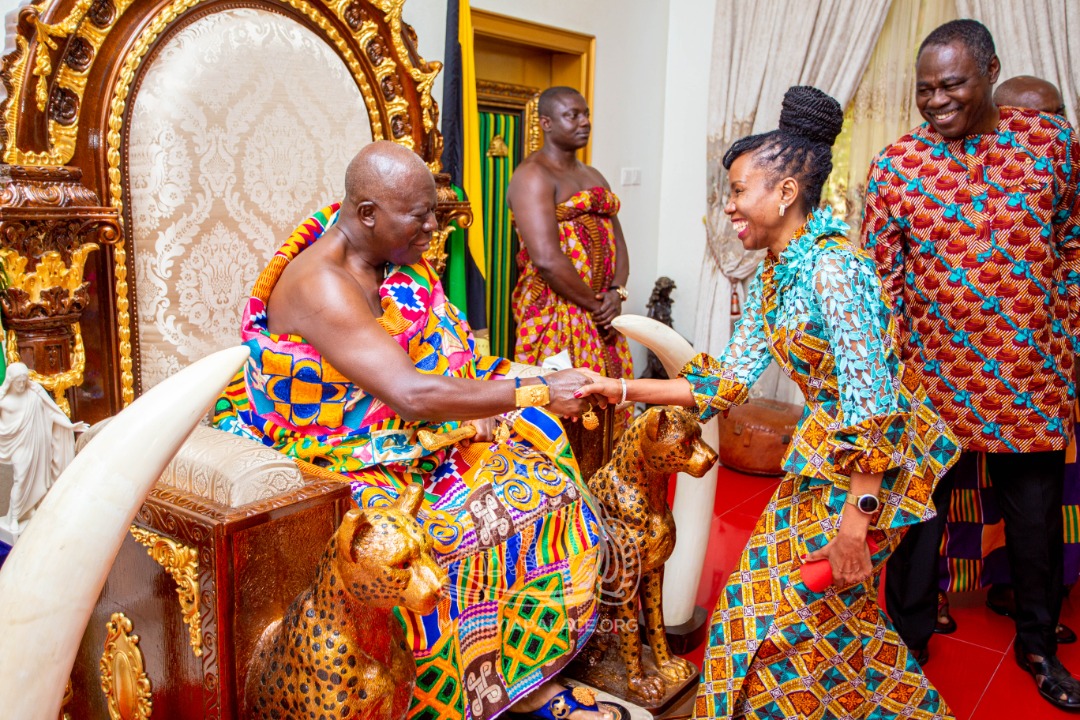 The Asantehene Otumfuo Osei Tutu II has applauded the National Science and Maths Quiz (NSMQ) mistress and the Primetime Limited- the brain behind the NSMQ- for the initiative.
The monarch believes the initiative is timely to the demand of the dynamic world which now revolves around Science, Technology, Engineering and Mathematics which are termed STEM.
"The initiative is precious to the country. This is not a profitable venture but together, they have sacrificed themselves to bring this. Ghana must recognise that this is in the best interest of the country."
The Asantehene made the submission when the leadership of Primetime Limited, the quiz mistress and some of the teachers from PRESEC-Legon presented the 2022 winners of NSMQ and the trophy to the King.
The delegation included the Chairman of Primetime Limited, Kwaku Mensa-Bonsu, the Managing Director, Nana Akua Ankomah-Asare, facilitator of NSMQ, Elsie Effah Kaufmann and the Presbyterian Boys' Secondary School (PRESEC-Legon) contestants.
This year, Prempeh College- the 2021 champion of the competition- succumbed to PRESEC during the final stage at the Kwame Nkrumah University of Science and Technology (KNUST) on October 26.
In a brief recount, Mr Mensa-Bonsu recollected that the NSMQ idea was birthed when he once encountered a bird comfortably seated on a power line and wondered how it didn't get electrocuted as a human would.
NSMQ will next year be 30 years.
Source: opemsuo.com/Hajara Fuseini
By Hajara Fuseini
October 29, 2022
Copyright Manhyia Palace 2023