Ghana Beyond Aid But We Still Need Support; Otumfuo To Denmark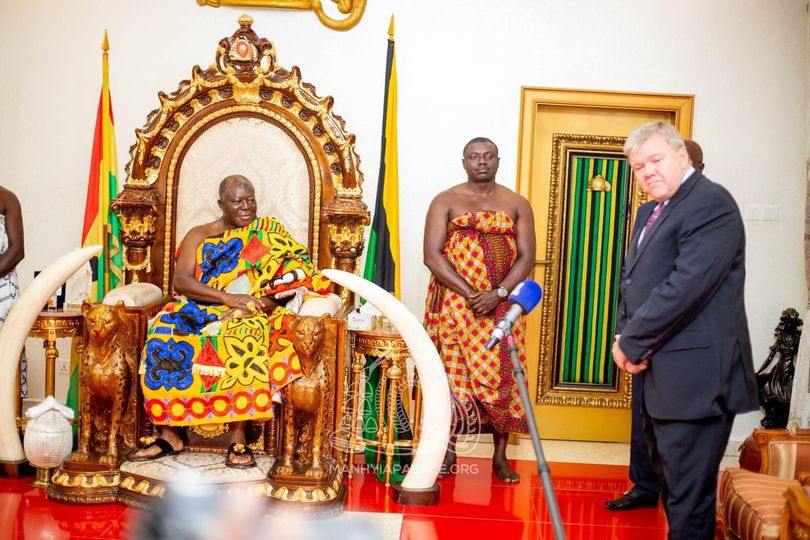 The Asantehene Otumfuo Osei Tutu II has called on Denmark to undertake social interventions in Ghana.
He said that although Ghana has been declared as a country beyond aid by the government, the Danish government can provide support in terms of education, health, agriculture, sanitation, etc.
Addressing the Danish ambassador to Ghana during a courtesy call at the Manhyia Palace on Friday, October 21, 2022, His Majesty counted the contributions by Denmark in Ghana.
"Development and assistance you have always brought to Ghana in respect of water, sanitation, and all areas that we appreciate and cherish. We also know Danish companies are creating employment, technology transfer to our people and all that. I can name about 68 companies of yours here. 35 of them being in partnership with Ghanaians."
This was after the Danish Ambassador to Ghana, H.E. Tom Norring said his country was working on other means to support Ghana despite the declaration of beyond aid.
"We are in a new situation now since the mark has phased out with what we call Traditional Development System", he said, pointing out that there are other means Denmark could help Ghana establish Ghana Beyond aid policies.
"I strongly believe that there are many ways that we can accomplish this. Actually, we are working on commercial, and trade relations, strengthening our ties", the ambassador said.
"Unfortunately Ghana said we are going to have Ghana beyond aid and therefore we've lost a lot of the assistance that you were giving us. Maybe we can still look at it in terms of social interventions", Otumfuo said in agreement to support.
He said these interventions could come in the form of infrastructures, water, education, waste management, etc.
"Yes Ghana beyond aid but we will still need that support no matter what", he said.
Watch Video Here:
Source: opemsuo.com/Hajara Fuseini
By Hajara Fuseini
October 22, 2022
Copyright Manhyia Palace 2023