Traditional Asante Durbar Held In Memphis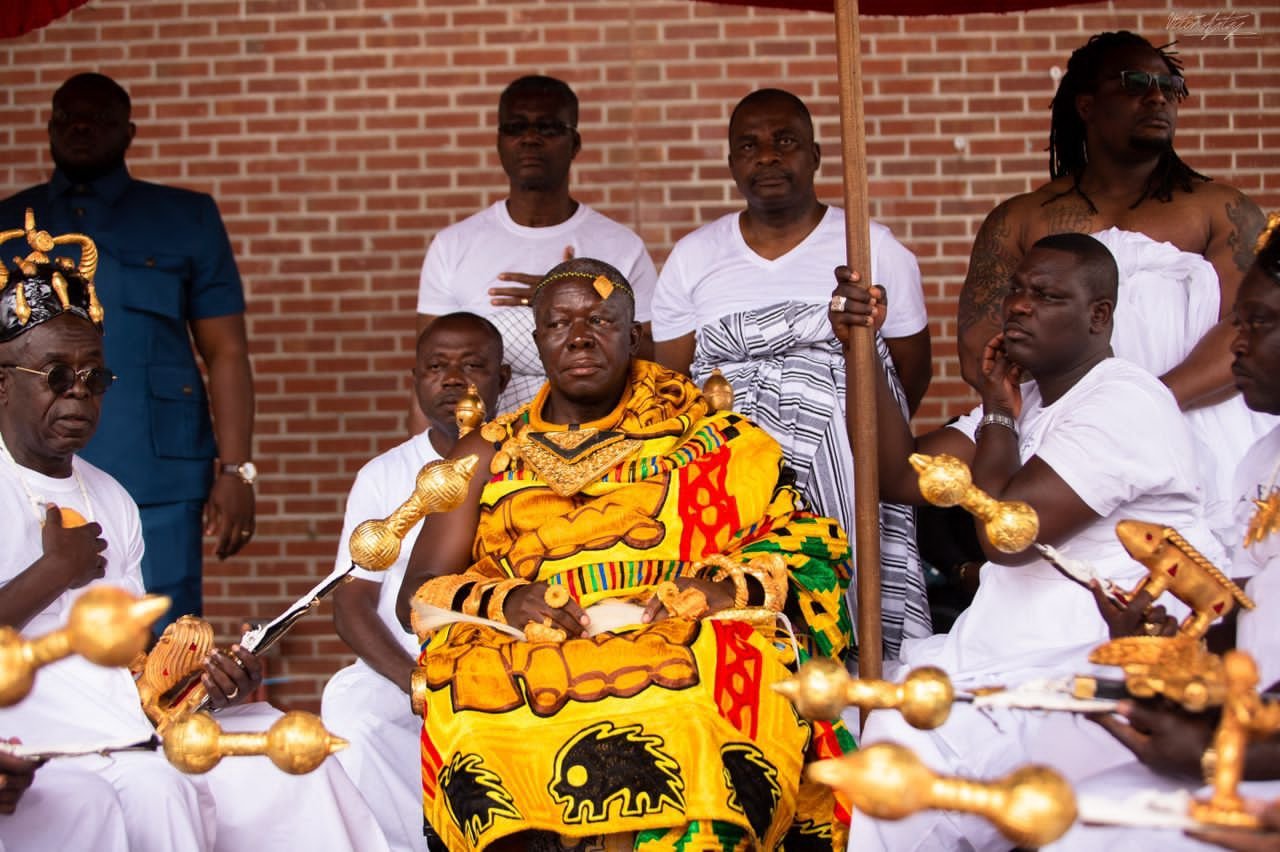 The Asantehene, Otumfuo Osei Tutu II, has held a traditional Asante durbar at the Historic Beale Street in the US, where a delegation of queen mothers, chiefs, government representatives, and several associations and groups joined.
The occasion comes as part of the weeklong Memphis in May International Festival activities.
The festival this time around saluting Ghana allowed for the display of rich Asante culture and heritage proceeded by a procession with the Asantehene and his chiefs and queens.
Various Akan traditional songs and dance which includes; Akantam, Adampan, Fontomfrom, Nawia, etc were all exhibited on the grounds with Otumfuo sitting in state.
The President of the Memphis in May Festival, Mr. James Holt noted that, the King's presence has not only made it possible for the exposure of Ghanaian culture but also that of Memphis'.
"Memphis in May is not only cheering the culture and wonderful aspects of the great nation of Ghana but we've had the opportunity this week to share some of our local Memphis cultures with his Majesty and Her Excellency, ambassador Mahama."
"His Royal Majesty has had the opportunity to visit our King Elvis with the trip to Graceland, visited FedEx Corporation, were incredibly pleased and honoured."
Amongst the chiefs present was Juabenhene, Nana Otuo Siriboe who spoke on behalf of His Majesty saying thank you to the organizers of the festival.
"We're indeed grateful to the festival committee for putting Ghana on the map of the Memphis in May International Festival and for allowing us to showcase a bit of our culture."
The Chairman of the Council of State called for the installation of an Asantefuohene for the whole of America, in his words: "we hope that all the differences in your various associations will very soon be resolved so that we can have one Asantefuohene for the whole of America," because Ashanti is known for their unity and it is for that fact that in unity is strength that we gave up our individual sovereignty to form a strong
union but when you come here, you're always fighting, we want to see one asantefuohene who has paramount chiefs in all the states let's work towards that."
The Ghana Ambassador to the US, Hajia Alima Mahama, Former US Ambassador to Ghana, Stephanie Sullivan, Mayor of Memphis, Mayor Jim Strickland, Asante Associations in the US, Ghana Embassy Staff, Ghana Consular General, Atta Boafo, Chairman of GIPC and many others all paid homage to the King.
Source: Opemsuo.com/ Monica M. Appiah-Manu
By Hajara Fuseini
May 9, 2022
Copyright Manhyia Palace 2023