US-based Choir Group Soothes Otumfuo With Angelic Voice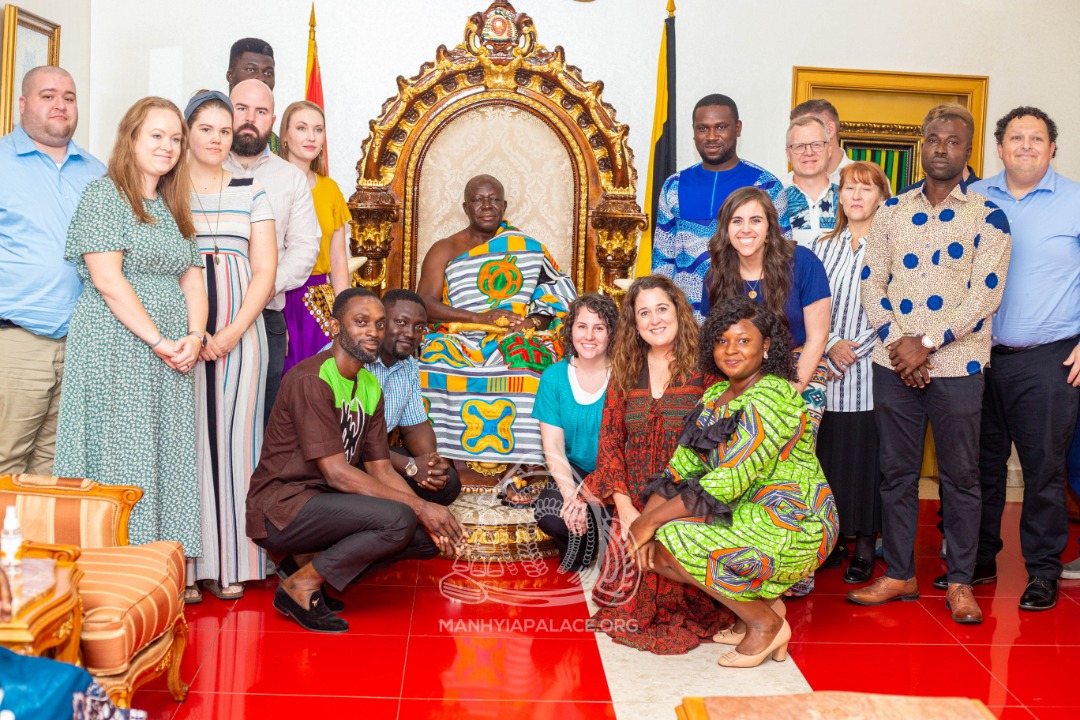 A foreign choir group from the United States of America (USA) performed for the Asantehene Otumfuo Osei Tutu II on Wednesday, November 2, 2022, at the Manhyia Palace.
The group by the name Collegiate Singers Alumni Grouptet from Brigham Young University, led by Dr Randall Kempton delivered a stunning performance before the King.
The group joined a delegation from Celestial Evangel Choir Ghana- a Kumasi-based choir with global recognition and noted for its advocacy for support for children with cancer- for a courtesy call.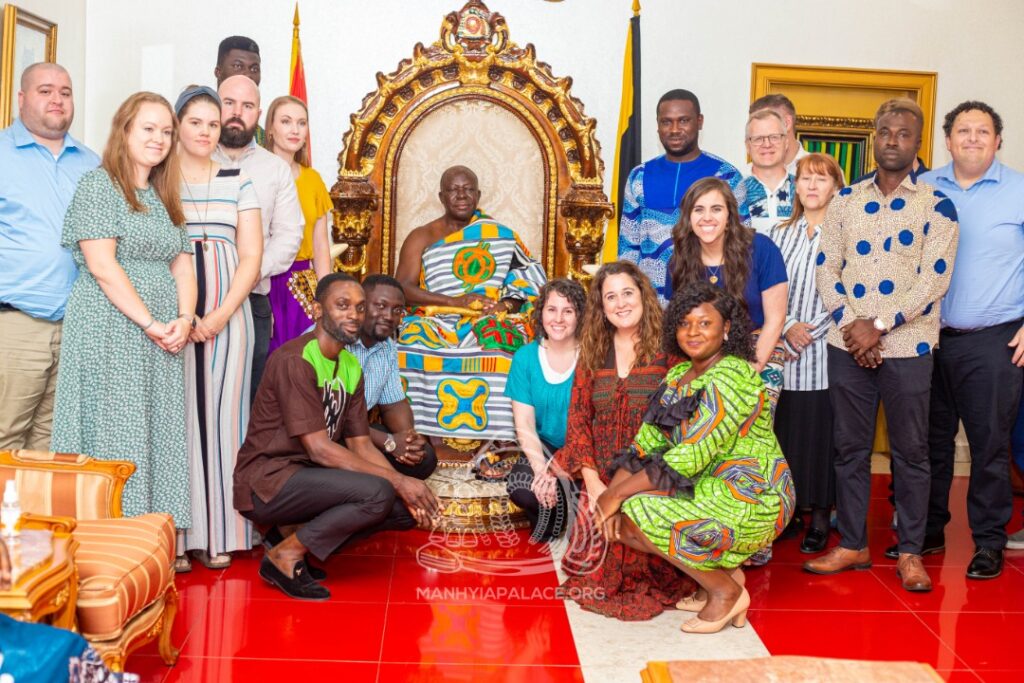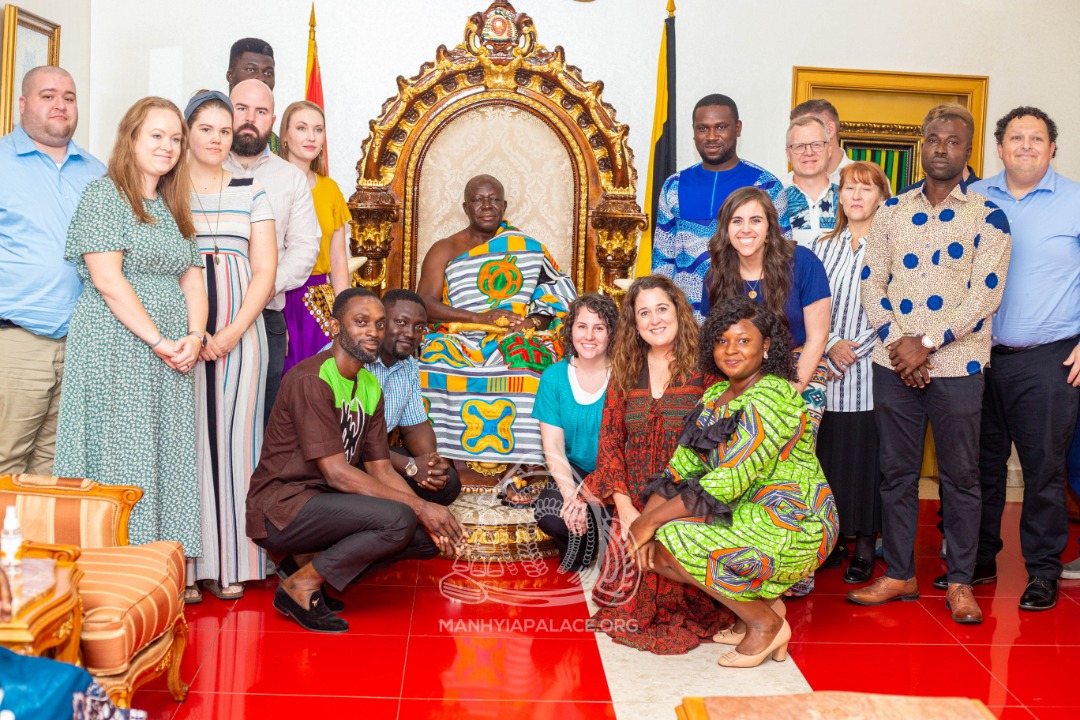 The Celestial Evangel group has, through their music, attracted support in diverse forms for children with cancer in Ghana.
The local Choir delegation was made up of Dr Albert Adusei Dua (Medical Practitioner, Family Medicine, Komfo Anokye Teaching Hospital), Dr Gaddiel Obo Mensah Yorke (Medical Practitioner, Komfo Anokye Teaching Hospital), Richard, Kwesi Oppong Baah (IT Technician, KNUST), Richmond Mensah Darfah (Sales Manager (MTN Ghana) and Ruth Antwi (Traffic Manageress, Angel FM-Accra).
The delegation informed Otumfuo about the celebration of their 10th anniversary on November 5 and 6 in Kumasi and Accra respectively.
Celestial Evangel Choir will unveil Kumasi Evangel Choir as their new name during their anniversary this weekend.
Introducing Collegiate Singers Alumni Grouptet to His Majesty, Dr Albert Adusei Dua who led the delegation told the King the US-based choir is in Ghana for the celebration of the anniversary and to financially support children with cancer.
Speaking on behalf of the foreign choir group, Dr Kempton expressed his satisfaction with the reception his delegation has received in Ghana so far.
Before leaving the presence of the King, Collegiate Singers Alumni Grouptet performed a song for Otumfuo.
The angelic voices of the group of about 15 relaxed and soothed the hearts of hearers as they performed acapella of "I am a child of God".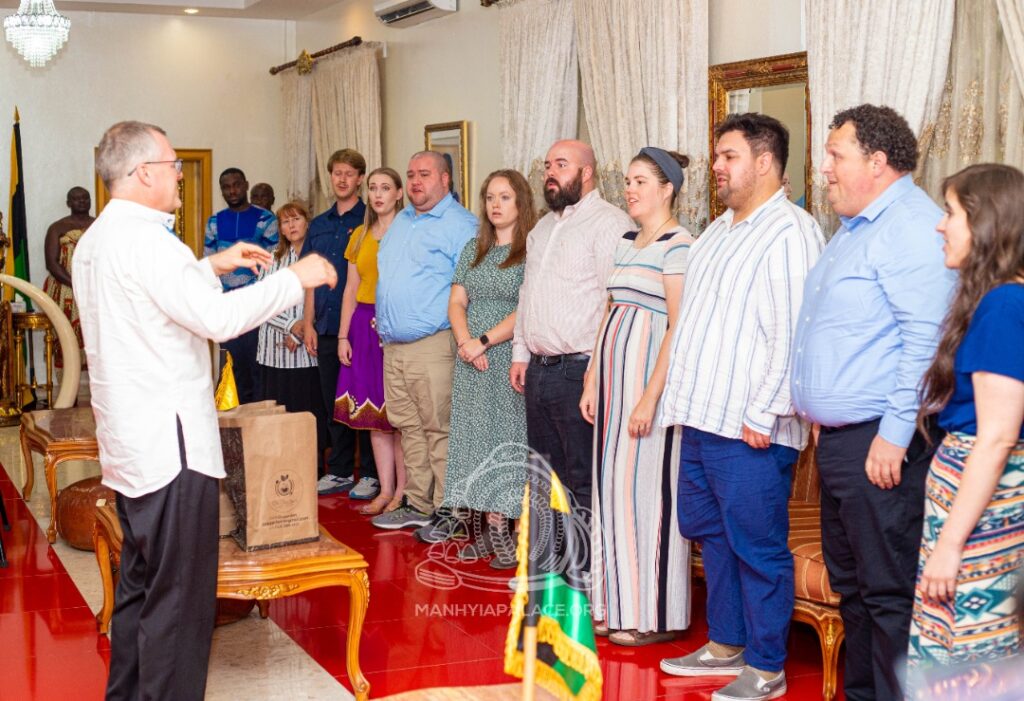 Expressing his delight and admiration at the performance, the King said, "the next time you come, I will keep you here for a week just to hear you sing."
Source: opemsuo.com/Hajara Fuseini
By Hajara Fuseini
November 3, 2022
Copyright Manhyia Palace 2023